This is the most wonderful fine dining restaurant that offers a memorable culinary experience, while diners enjoy breathtaking views of the Caldera. The establishment is a true gem, combining exceptional cuisine with a captivating atmosphere.
The menu at Lycabettus Restaurant created by the Chef Christos Karagiannis, showcases a harmonious blend of international flavors and modern gastronomic techniques, resulting in an exquisite dining experience.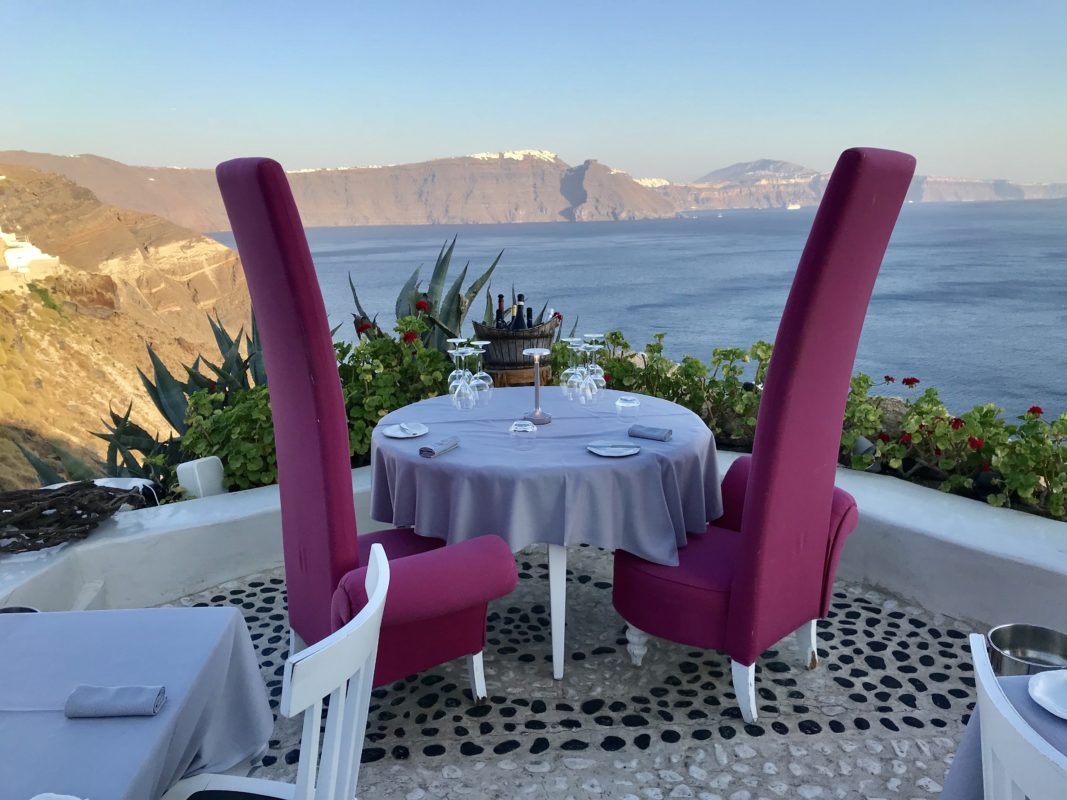 My table has been set with four different types of bread: French baguette, croissant with sun-dried tomato, whole wheat with malt, and brioche with thyme. Additionally, there are two different kritsinis, one with saffron and one with beetroot.
All of this is accompanied by butter flavored with garlic confit and thin slices of cecina (a meat that has been salted and dried by means of air, sun, or smoke) from Spain, excellent choices to whet the appetite.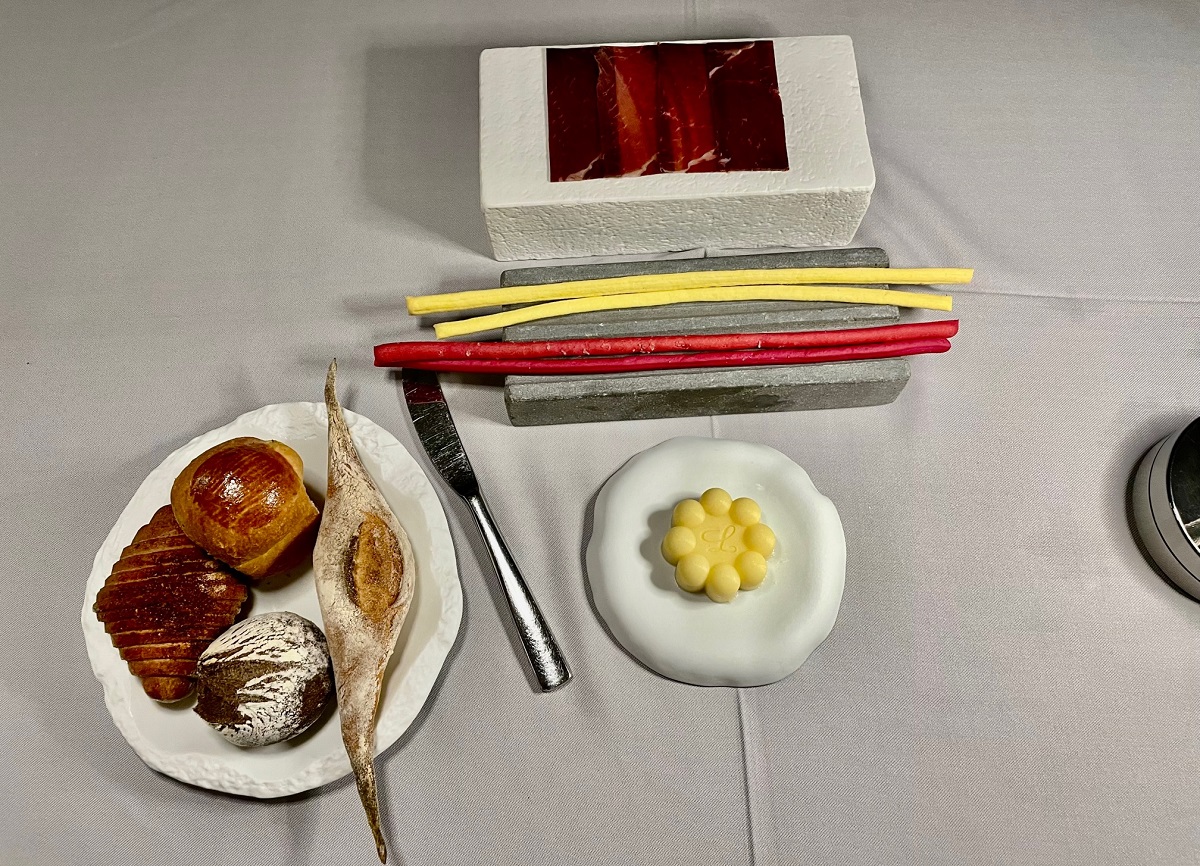 The chef welcomes me with a great variety of amuse-bouche: a puff pastry with trout egg mousse and lemon gel, a pistachio and herring caviar roe fresh cream tart, a red sphere with gazpacho soup, a yogurt cream tart, a variation of crème brûlée with smoked metsobone cheese, honey, and black garlic glaze, and finally, a potato espuma with mushroom, fennel, and egg yolk.
It was a burst of flavors to start such an amazing dinner in front of the Caldera rocks. Amazing, clean, and intense flavors in each of those tiny and full of flavors creations!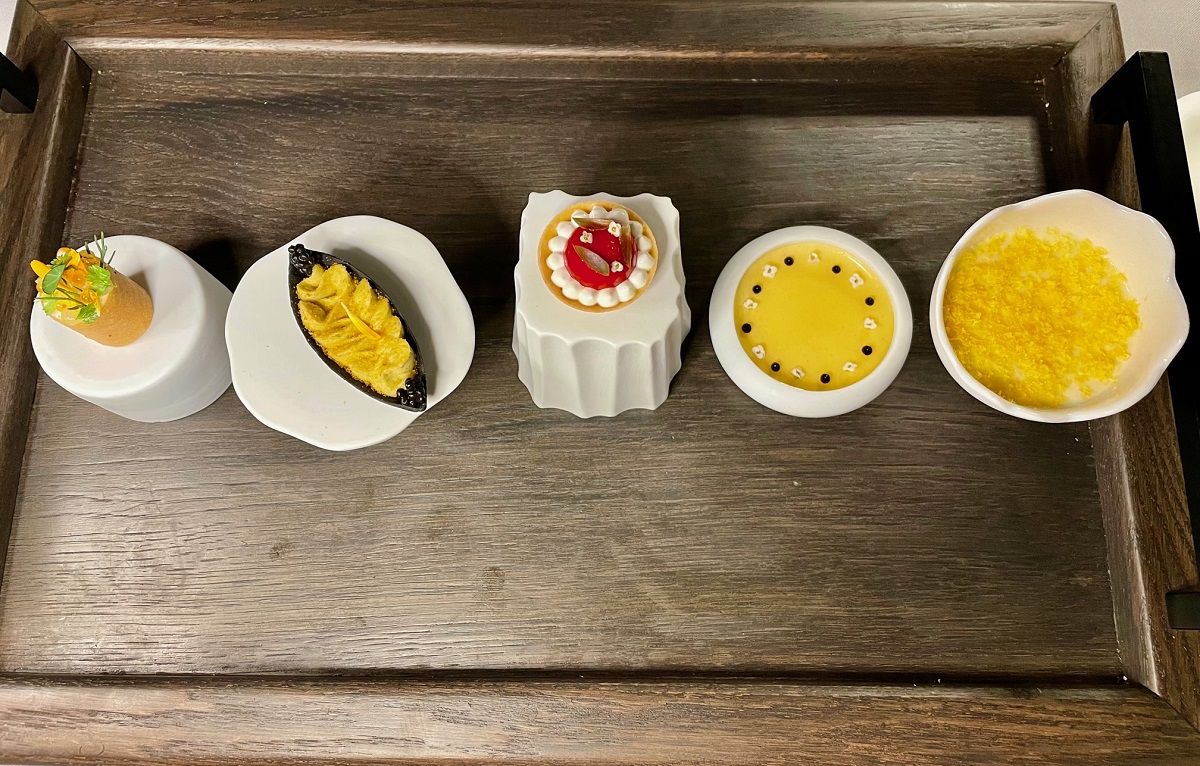 The first dish I try is prawn tartare. It is a tantalizing dish featuring prawn tartare, oyster emulsion, zesty lemon gel, and topped with luxurious Ossetra caviar. All of this is harmoniously presented atop a bed of vibrant green gazpacho soup.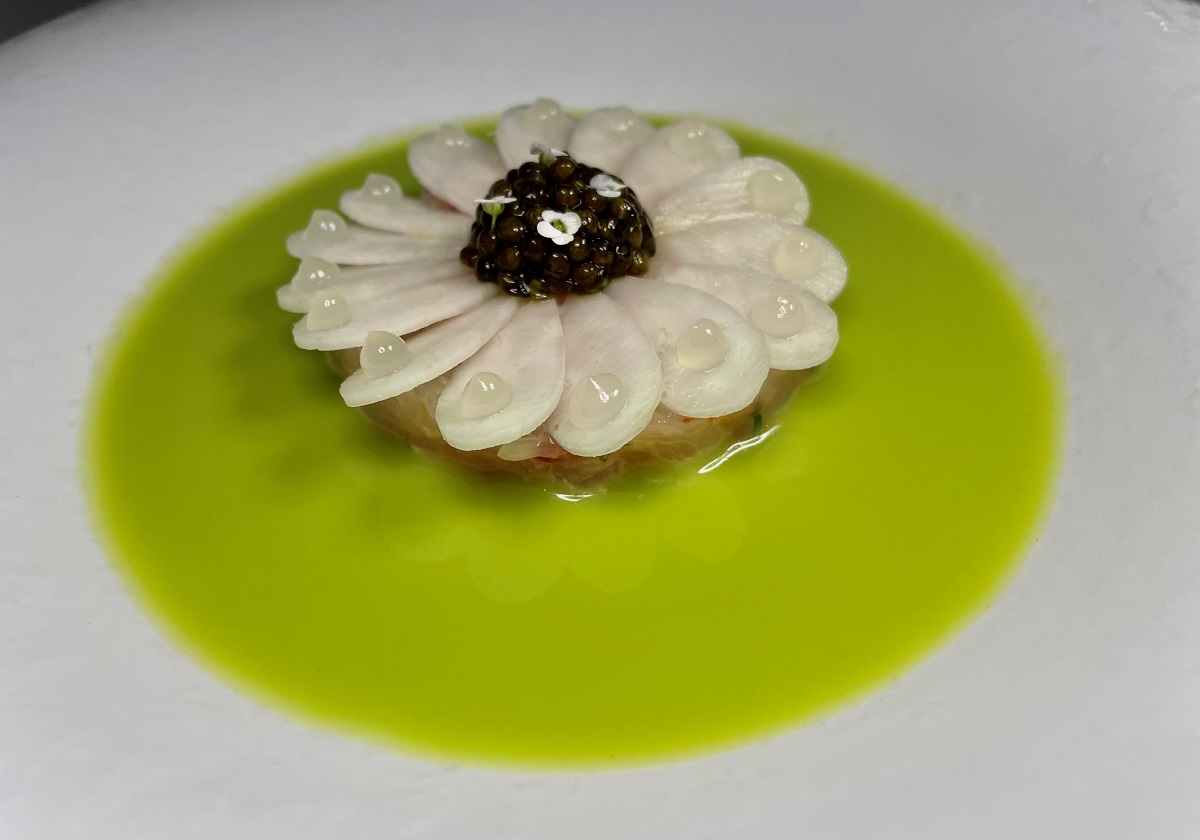 This culinary masterpiece entices with its delicate textures, refreshing flavors, and touch of opulence, creating a symphony of taste that leaves me craving for more.
Next is the crayfish dish. It is a sensational dish composed of succulent crayfish adorned with a delicate ramson (wild garlic) emulsion, luscious caviar, zesty lemon gel, and a velvety lobster sabayon. A sprinkle of vibrant spinach powder adds visual intrigue.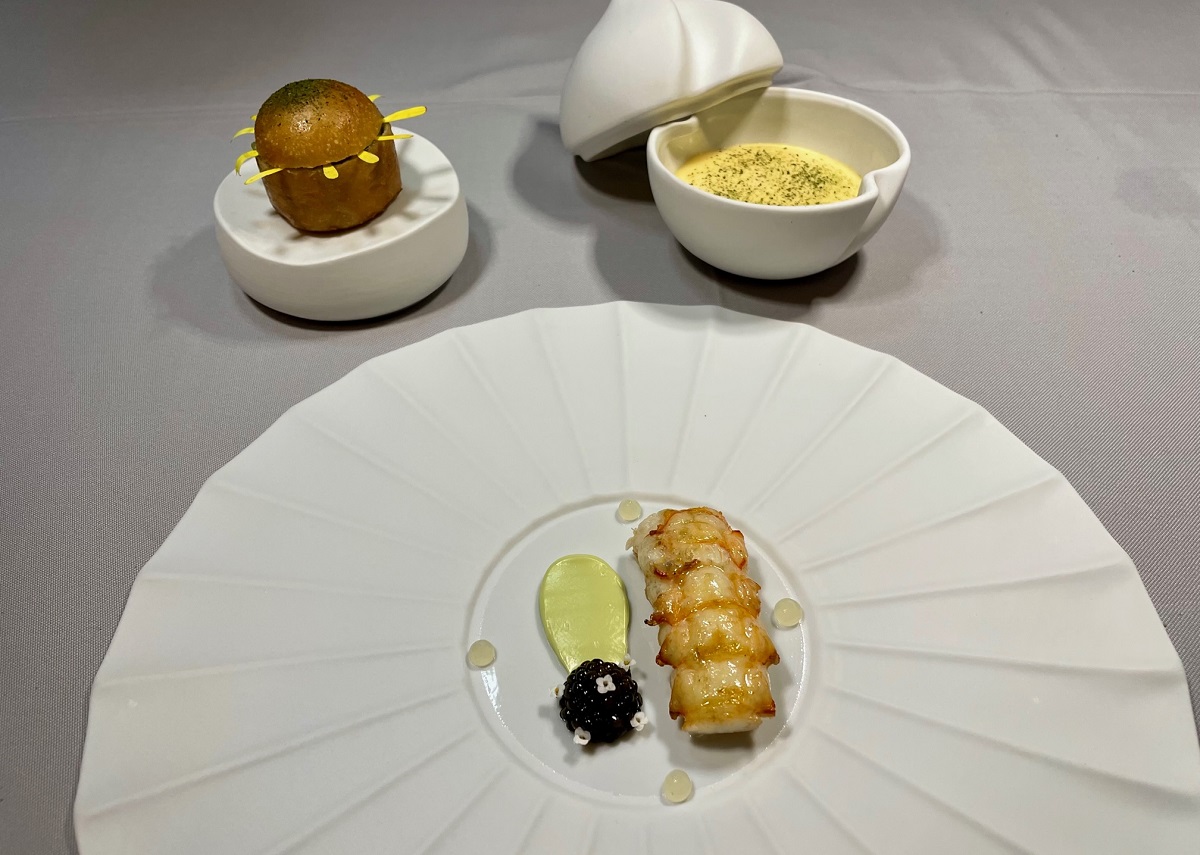 Alongside this gastronomic delight, a crispy fried bao bun brims with a tantalizing crayfish filling, completing this culinary masterpiece that harmonizes flavors, textures, and creativity with every exquisite bite.
My dinner continues with scallops. They are perfectly seared and glazed in grape juice, complemented by the smoky embrace of pancetta.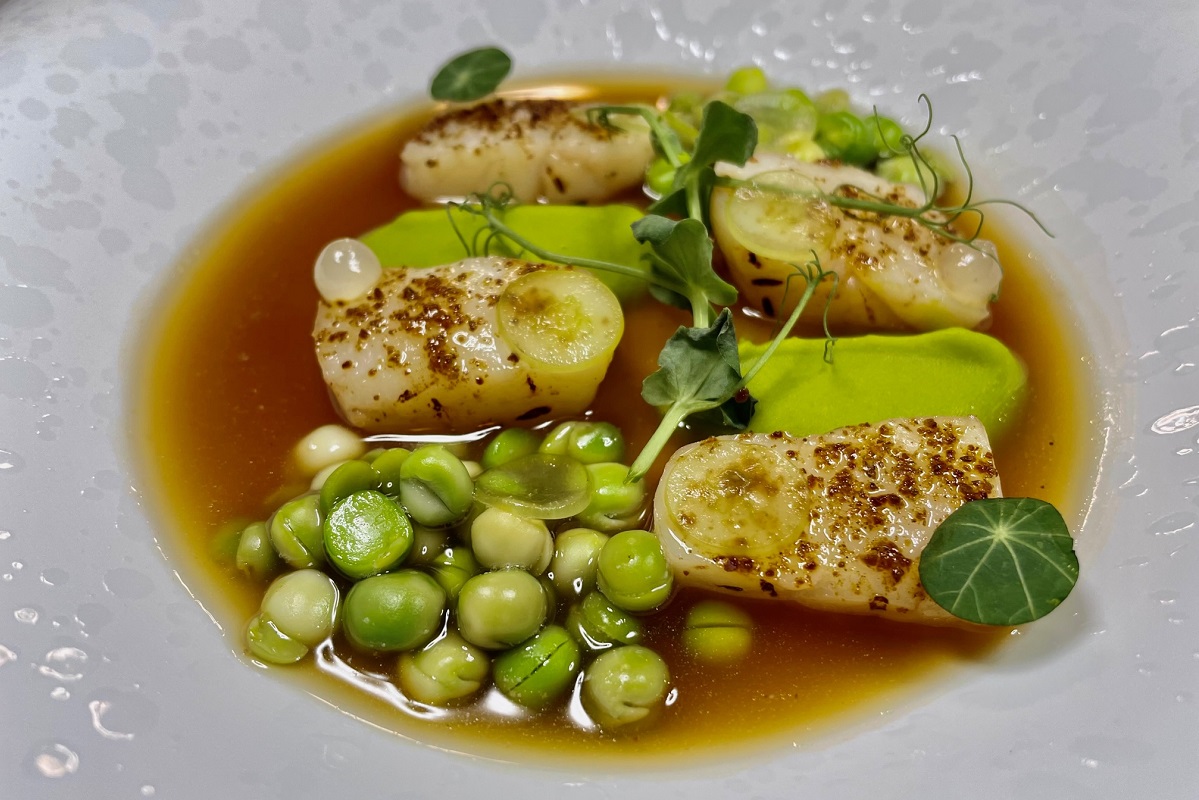 A sprinkling of vadouvan adds aromatic allure, while vibrant fresh peas and a luscious pea mash provide a delightful texture. Accented with grape pickles, lemon gel, and a touch of XO sauce, this dish is a symphony of flavors.
Next up is the lobster dish. It features a perfectly poached lobster generously stuffed with plump scallops, enhanced by lemon gel. On the side, a velvety pumpkin puree complements a delicate rose of yellow pumpkin. The flavors are elevated further with a rich lobster bouillon.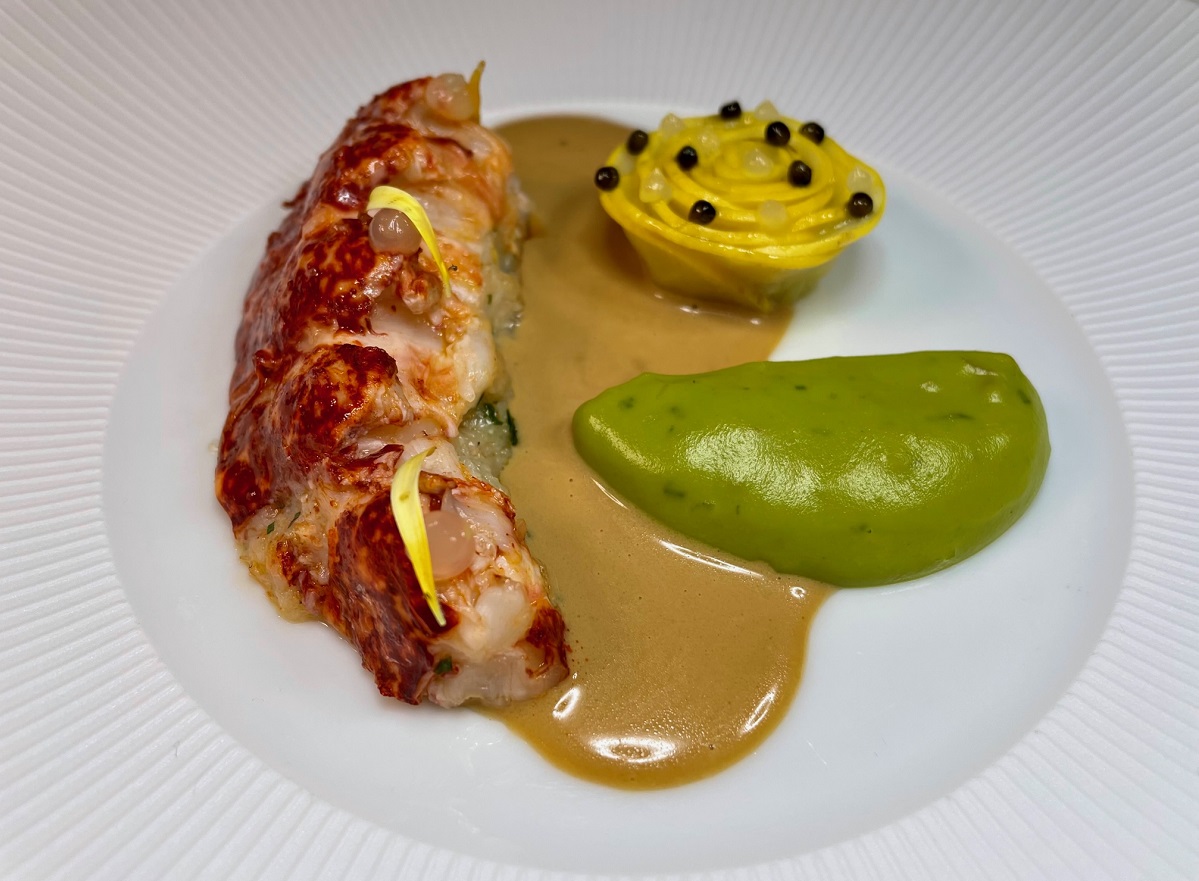 A mini waffle accompanies the dish, adorned with sundried tomato, lobster mousse, and a sprinkle of grated macadamia nuts, creating an amazing combination of textures and flavors.
For my last dish, I enjoy brisket. It features super tender brisket, slow-cooked to perfection, accompanied by a velvety artichoke puree that adds a touch of earthy richness.
A luscious beurre noisette emulsion enhances the flavors, while a Cantonese tapioca sauce provides a delightful hint of sweetness.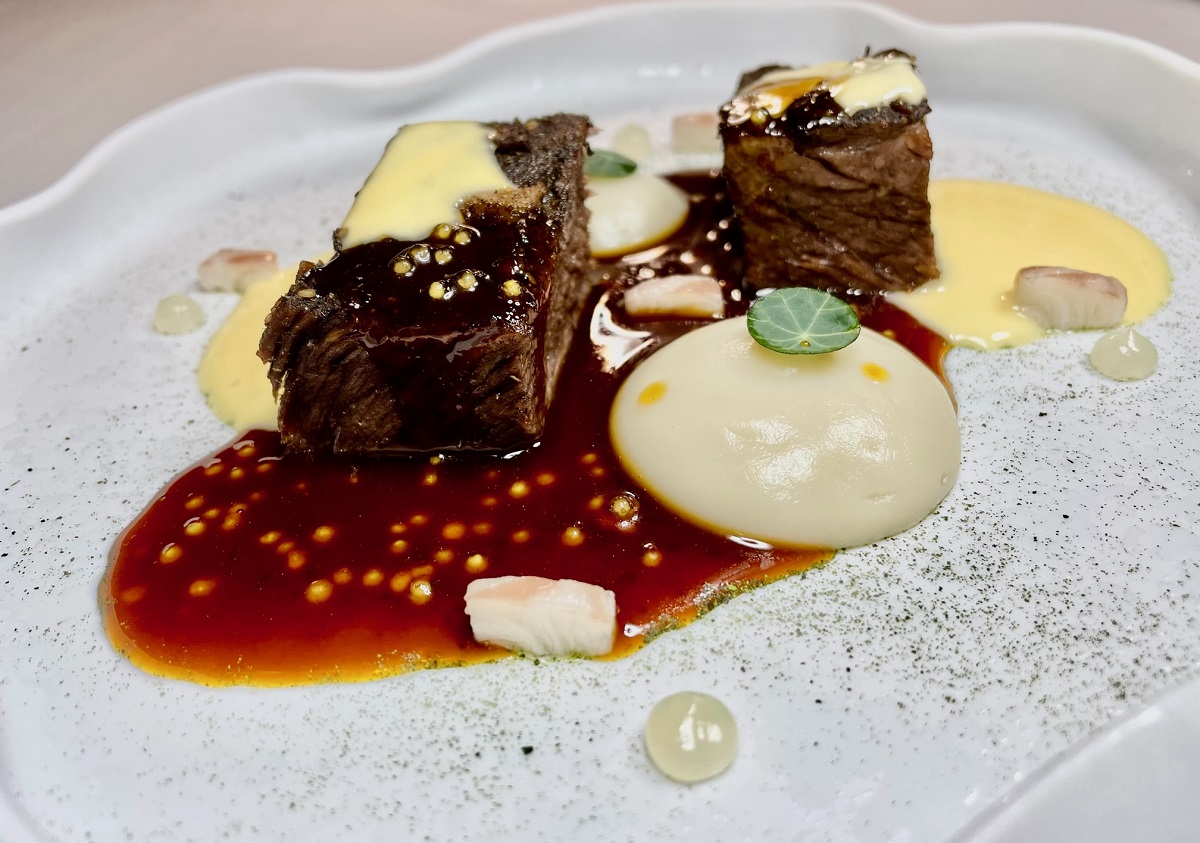 This combination creates a harmonious culinary experience that leaves me longing for more.
Pastry chefs George Platinos and Gregory Karavatsos create a super delicious dessert that completes the unique culinary experience.
To complement my meal, Lycabettus Restaurant boasts an extensive wine list with about 1,700 different wines, featuring both local and international labels.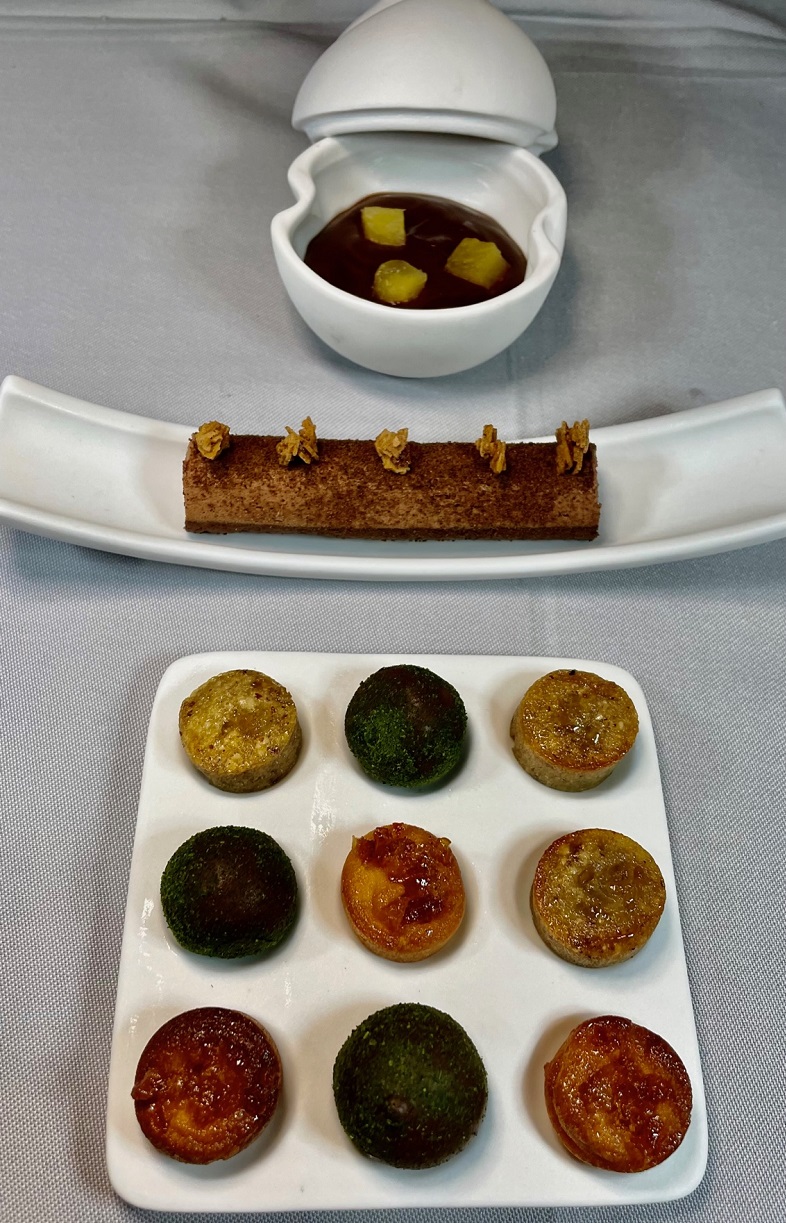 Head sommelier Sotiris Kandylis are well-versed in the art of wine pairing and are more than happy to recommend the perfect bottle to enhance the dining experience further.
The service is impeccable also. The waitstaff is well-versed in the menu offerings and can provide recommendations tailored to individual preferences. Congratulations to the team!