Nestled within the luxurious confines of the 5-star Hotel Aqua Blu on the enchanting Kos Island, this Mediterranean fine dining restaurant embodies elegance and sophistication.
At Cuvée Restaurant, I stepped into a world of refined culinary experiences, where impeccable service and attention to detail create an unforgettable ambiance. The menu features Greek flavors expertly created by talented chefs Gikas Xenakis and Petros Letsi, using the finest locally sourced ingredients. With its opulent decor, panoramic views, and curated selection of fine wines, this restaurant offers a truly elevated dining experience that caters to the most discerning palates.
My dinner started with three different Greek amuse-bouche. The first one was a yogurt sphere with olive oil, the second a ravioli with cream of spinach and olive oil "snow," and the third was a super strong mushroom soup with potato, leek, and syglino (a cured and smoked pork meat from the region of Mani). The flavors were wonderful and the dishes were delicious, setting the stage for an amazing four-course fine dining experience.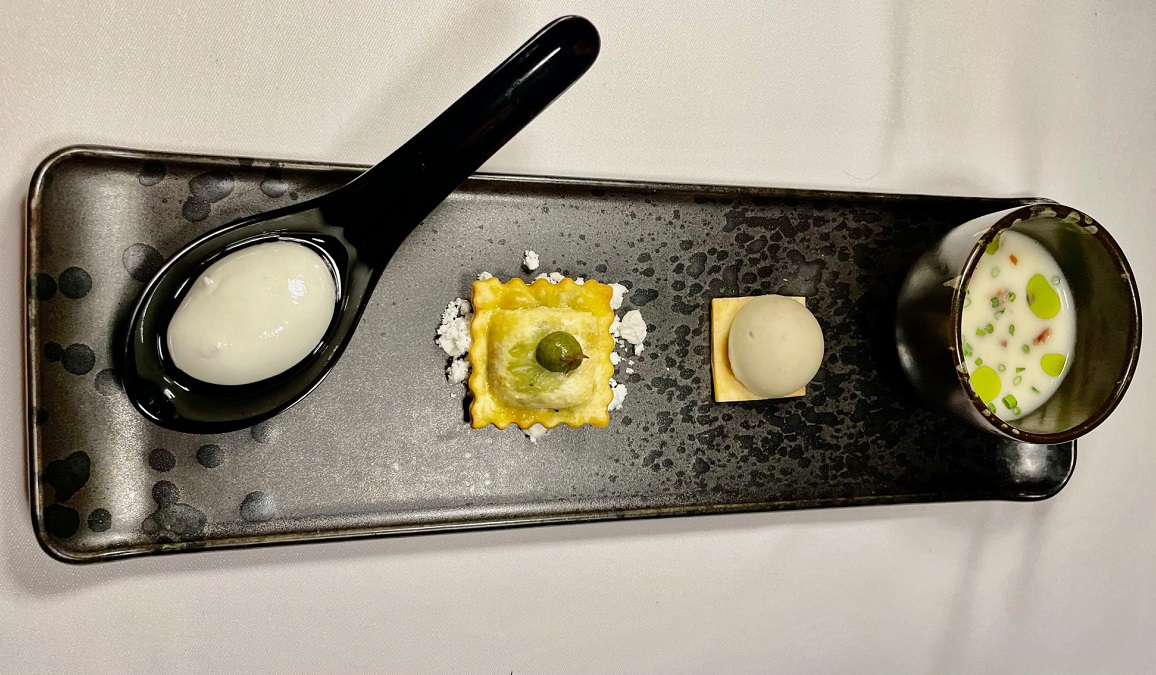 For the first dish, I had plump scallops, elevated with an array of complementary flavors. The dish began with perfectly seared scallops, their tender texture enhanced by a delicate caramelization. Nestled alongside were charred cucumbers, adding a smoky note and refreshing crunch. Tapioca caviar burst with tiny pearls of flavor, providing delightful texture and a touch of sophistication. A lemongrass sauce lent a zesty and aromatic essence, while a drizzle of premium olive oil enriched the dish with its smooth richness. This harmonious composition of ingredients created a symphony of tastes, textures, and aromas, ensuring an exquisite dining experience.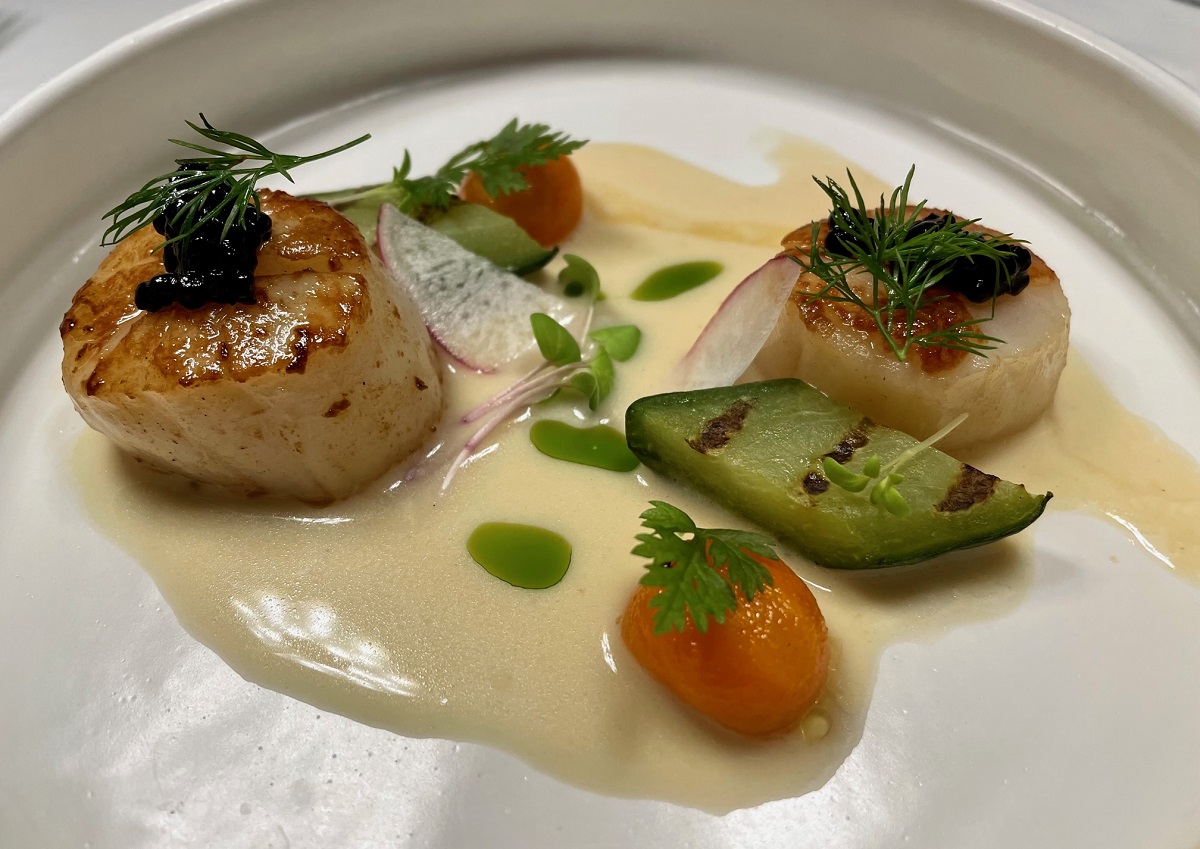 The second course featured a semi-cured sea bass taking center stage, its tender flesh boasting a delicate balance of richness and freshness. The dish was elevated by a fragrant broth infused with the essence of raisins, fennel, and rosemary. The sweetness of the raisins harmonized with the aromatic fennel, while the rosemary added a hint of earthiness. As the flavors melded together, each spoonful revealed a symphony of tastes, with the sea bass providing a luxurious texture. It was simply amazing!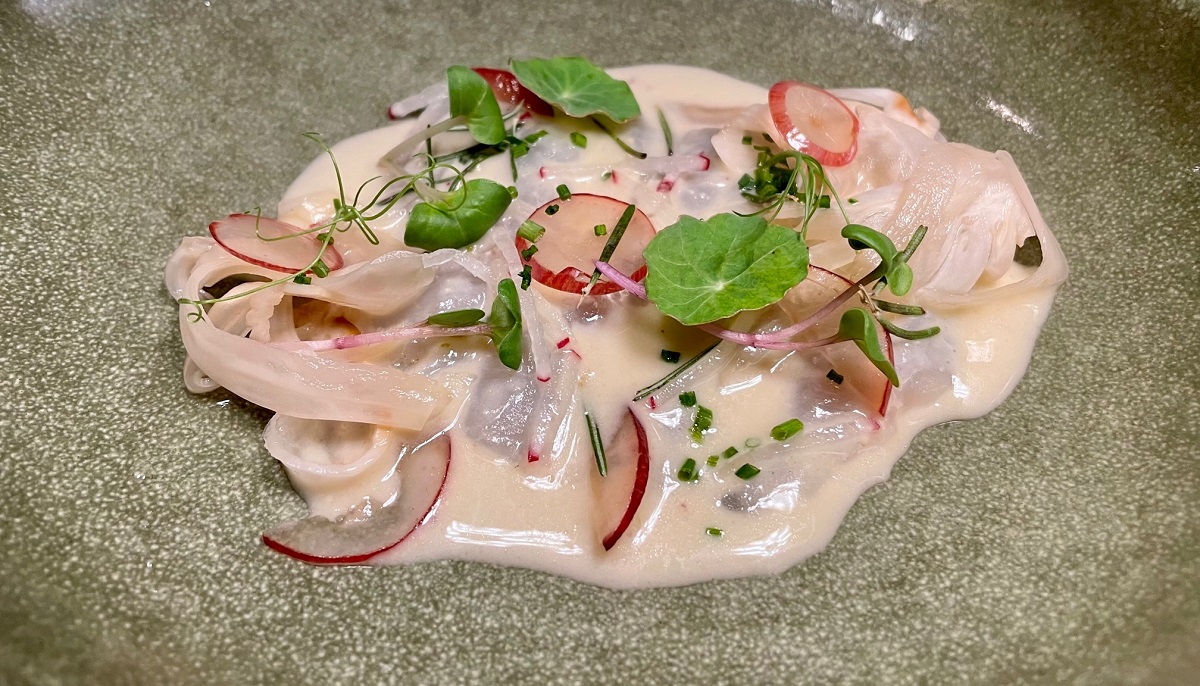 The third dish took me on a journey through the vibrant world of tomatoes with the Tomato Trilogy. It began with a burst of color and flavor in the form of a yellow cherry tomato tartare, meticulously diced and seasoned to perfection. Next, a refreshing tomato sorbet captivated the palate with its icy allure, offering a delightful contrast of temperatures. A velvety tomato broth enveloped the senses, infusing each spoonful with rich, savory notes. Complementing this medley were olive crackers, providing a satisfying crunch, while fresh olives added a touch of brininess and depth. Together, this ensemble of tomato variations and savory accompaniments created a symphony of taste and texture, showcasing the versatility and beauty of this beloved vegetable. It was truly a clever dish!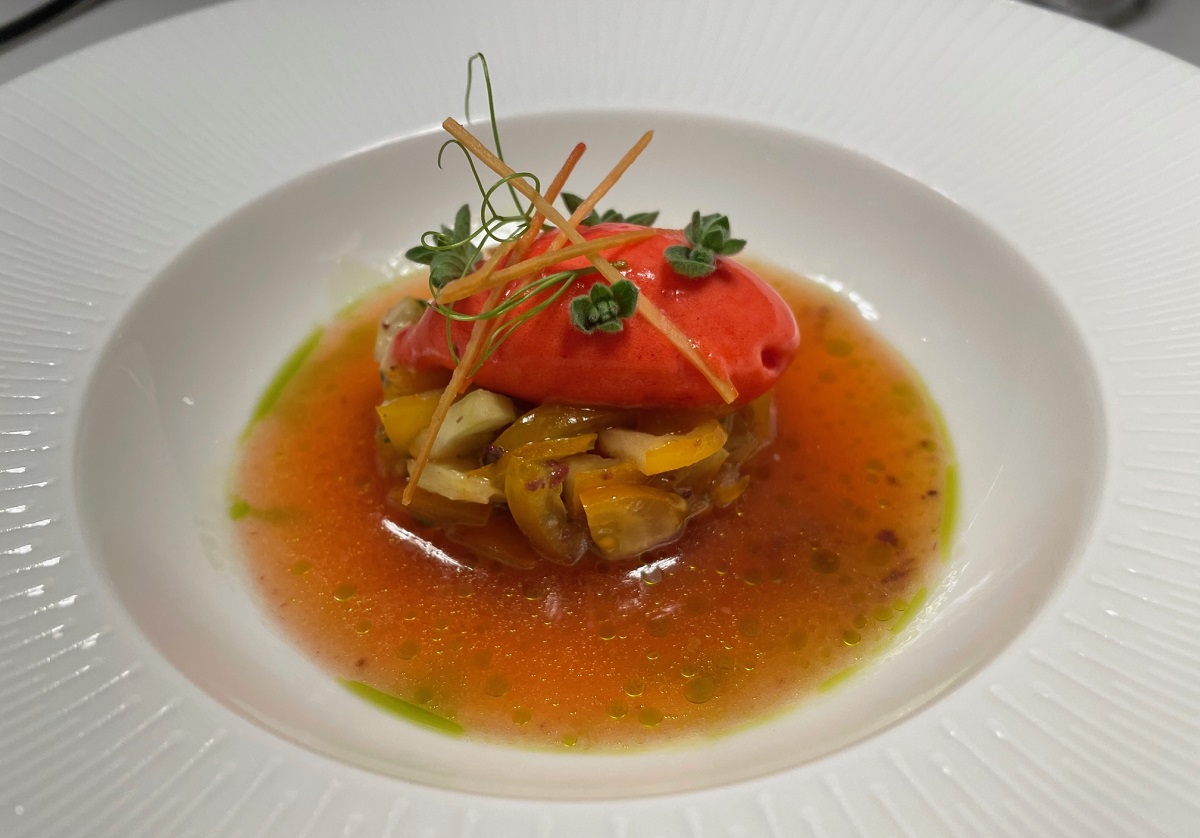 The final course was a captivating dish that showcased the exquisite flavors of the sea and earth. The plump and tender grouper took the spotlight, its delicate white flesh perfectly cooked to retain its natural succulence. Alongside, a medley of briny clams added a delightful Aegean touch, infusing the dish with their unique essence. Pickled artichoke lent a tangy and slightly tart note, while a velvety pumpkin cream added a smooth and comforting element. A vibrant parsley sauce brought a fresh and herbaceous kick, while capers contributed a burst of zesty flavors. It was a harmonious blend of tastes and textures, creating a memorable finale.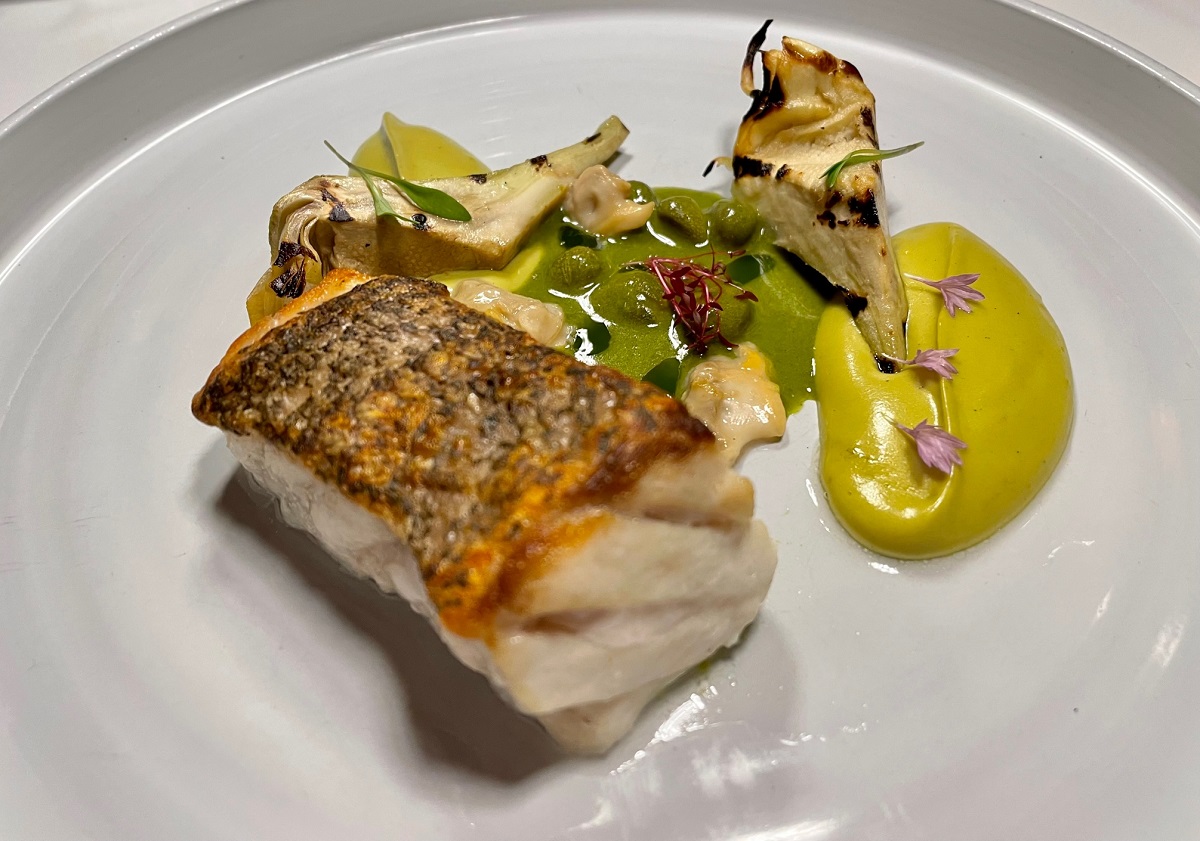 The desserts, crafted with passion and precision, were the grand finale that perfectly concluded the memorable fine dining experience.
Impeccable service is the hallmark at Cuvée Restaurant, where attentiveness, warmth, and efficiency create a truly memorable dining experience!