Perched on the edge of the mesmerizing Caldera in Santorini, Throubi Restaurant at Andronis Concept Hotel is a veritable culinary gem, where fine dining converges with an unwavering commitment to delectably health-conscious cuisine.
Its idyllic location offers breathtaking vistas of the Aegean Sea and the iconic Santorini sunsets.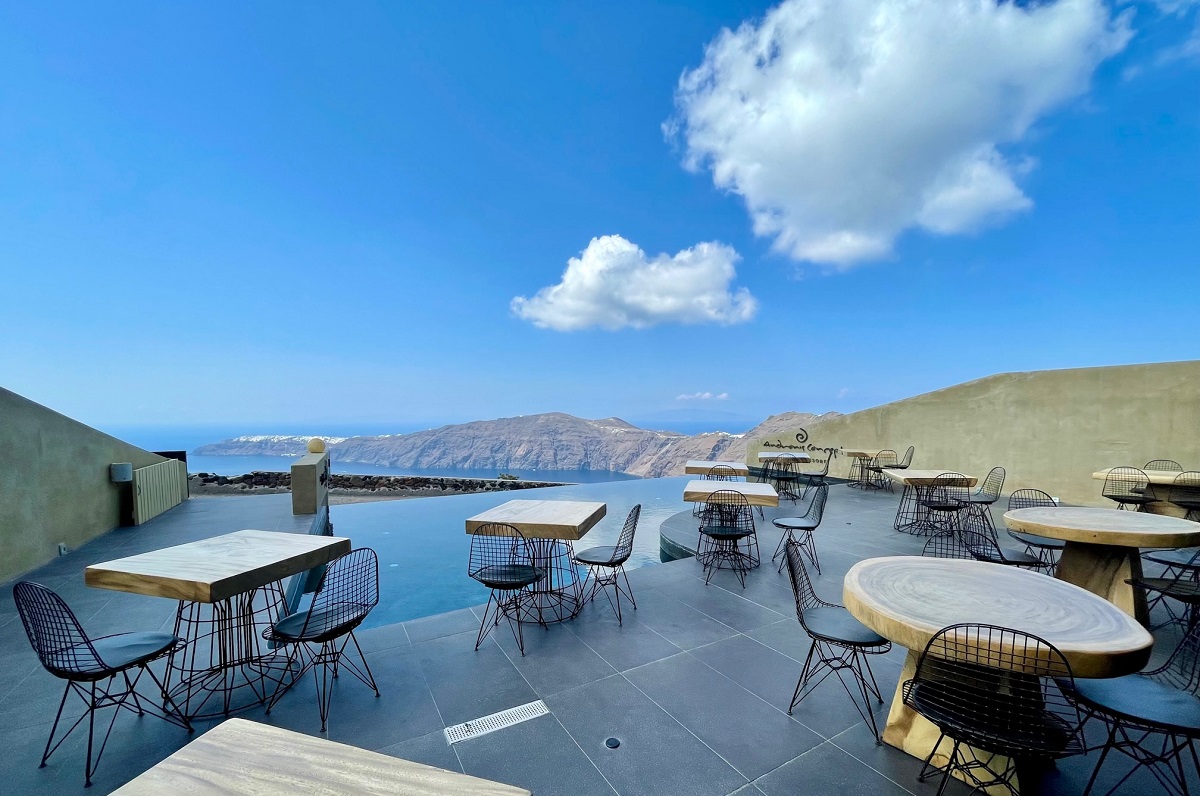 The ethos of fine dining is embraced with a meticulous attention to detail, from impeccable service to an impressive selection of wines.
The restaurant remains steadfast in its dedication to health-conscious dining that never compromises on taste.
As the sun gracefully descends behind the caldera, the restaurant metamorphoses into a romantic haven, where indelible moments are forged, rendering it the quintessential haven for those in pursuit of both culinary excellence and well-being amidst the natural allure of Santorini.
Chef Babis Koukoudakis graciously greets patrons with an assortment of bread and olive oil butter.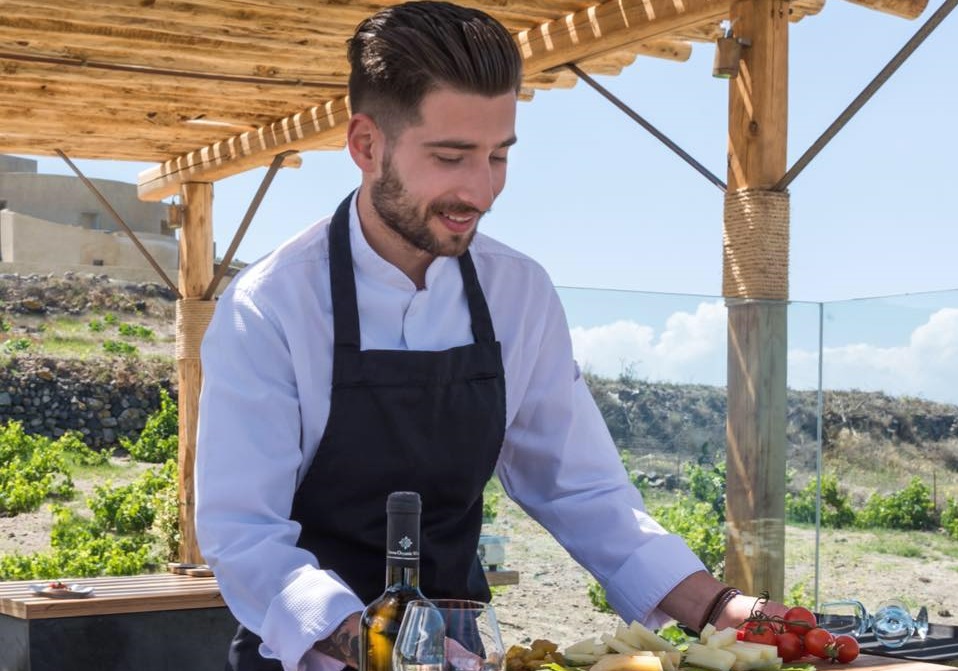 My culinary journey commences with a quartet of amuse-bouche: a leek pie ensconced in a funnel, adorned with xigalo cheese, a smoked amberjack accompanied by avruga, a beef tartare complemented by quail egg yolk and truffle and a cup of excellent mushroom tea.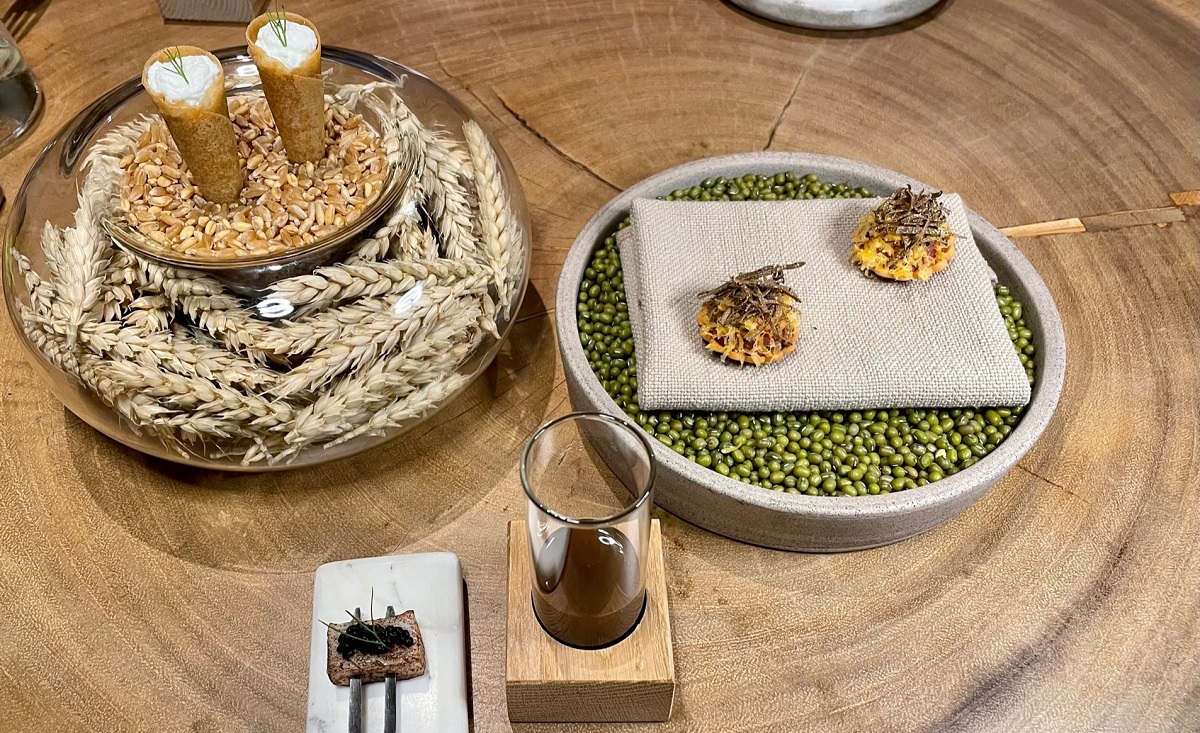 For the first course, I indulge in sea bass ceviche… roll infused with yuzu, wasabi, and ginger.
The delicate sea bass is marinated in a zesty yuzu blend, providing a citrine tang, while the subtle heat of wasabi and the invigorating warmth of ginger bestow depth and excitement.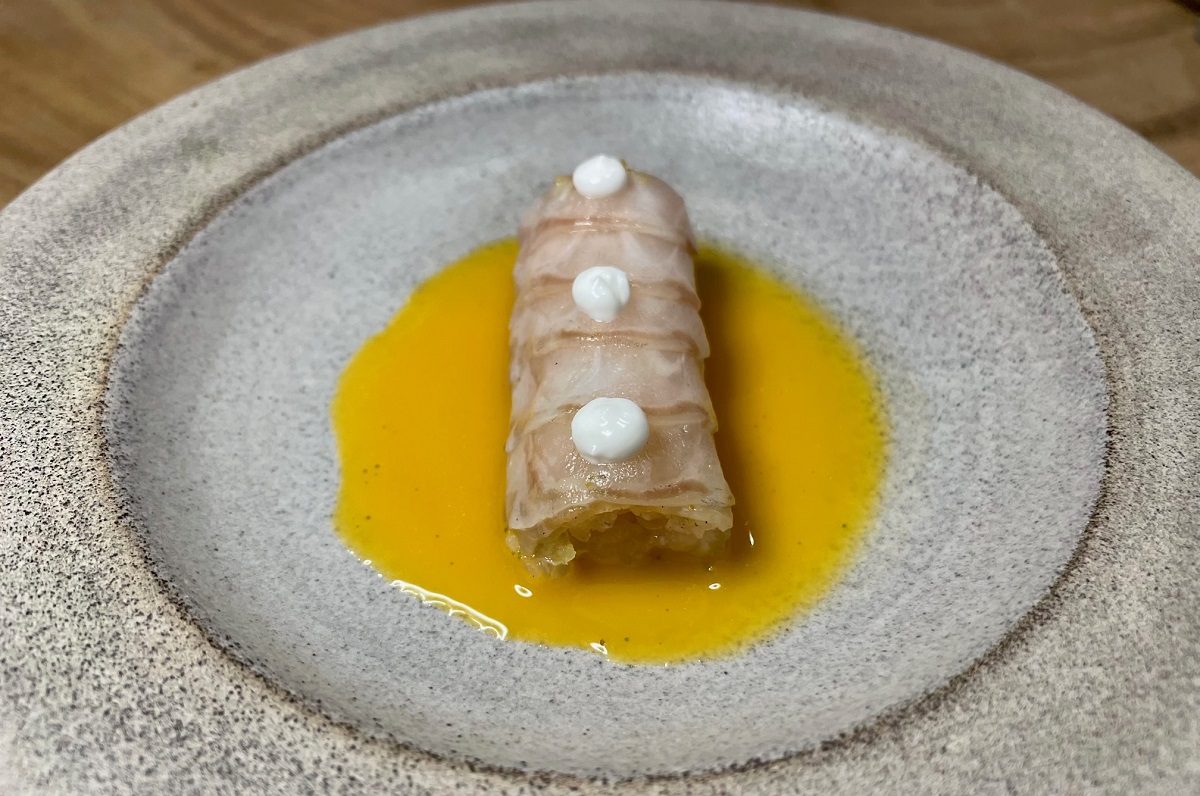 Following this, marinated prawns from Koilada make their appearance, accompanied by caper leaves, carrot puree, lemon padding, taramas, and tomato water.
The prawns, tender and succulent, burst with the vivacious essence of the sea, courtesy of their expert marinade.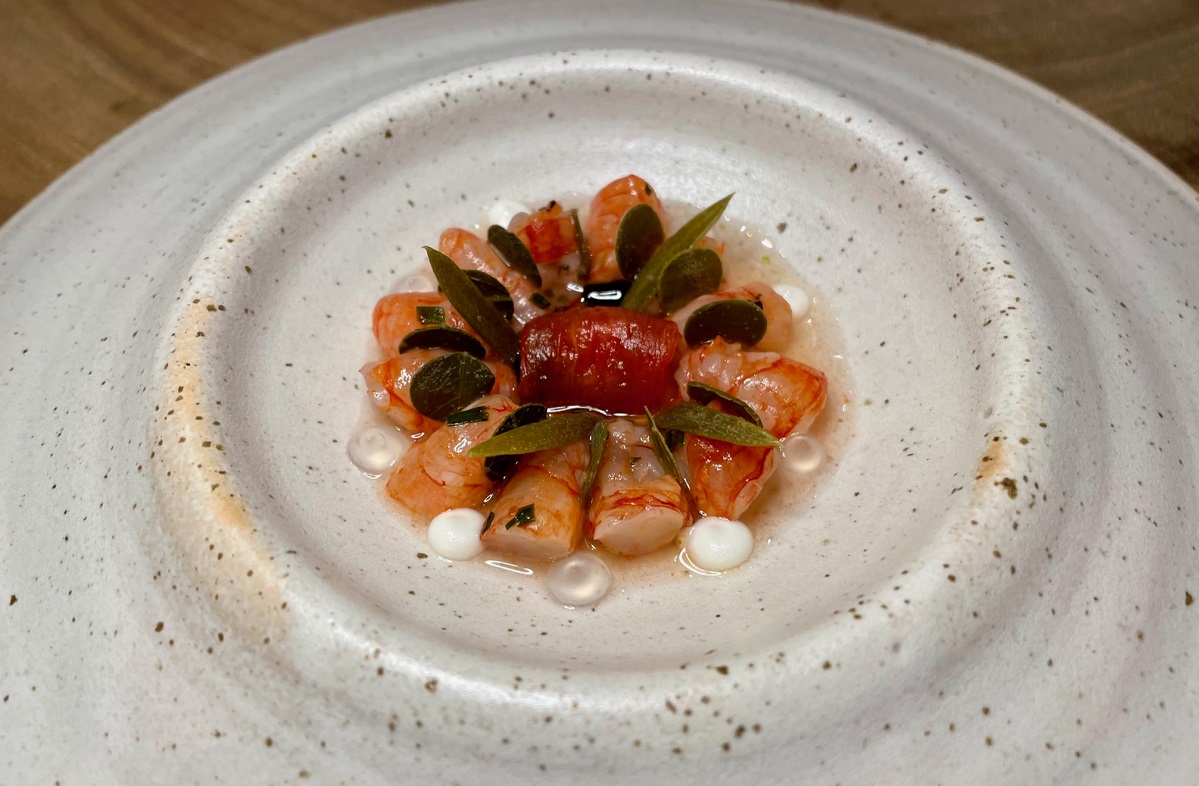 Caper leaves contribute a zesty, briny nuance, while the creamy carrot puree imparts a delicate sweetness that harmoniously complements the prawns' opulence.
The lemon padding offers a zesty vibrancy that melds seamlessly with the umami depths.
Another exceptional dish is the Amberjack, grilled to perfection and partnered with king mushrooms, honey miso, yuzu truffle, turnip puree, enoki mushrooms, and pickled onions, accompanied by caviar and a mushroom tea infused with dried bonito, soy, and wild mushrooms.
This exquisite creation tantalizes the palate with a harmonious amalgamation of flavors and textures.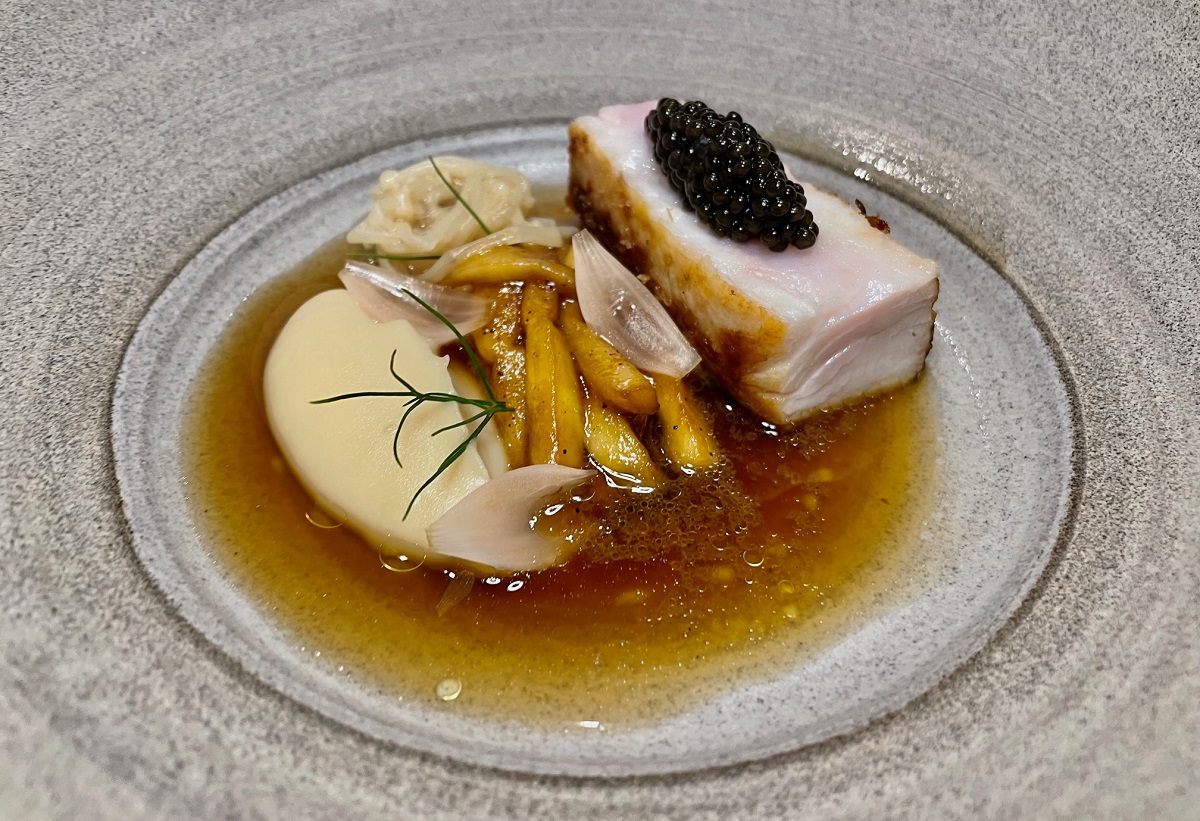 The tender Amberjack, bearing a flawlessly smoky char, marries seamlessly with the earthy opulence of king mushrooms, elevated by the intricate sweetness of honey miso and the vivacious citrine notes of yuzu truffle.
The velvety turnip puree furnishes a silken contrast, while the enoki mushrooms and pickled onions introduce a delightful crunch and piquancy.
Caviar crowns this masterpiece with opulent saltiness, and the mushroom tea, infused with dried bonito and soy, bequeaths an enduring umami richness, lingering with each delectable bite, rendering it a masterpiece of culinary artistry.
The pièce de résistance, the saddle of lamb in a ballotine, arrives, filled with lamb mince and seasoned with a medley of dukkah spices, frumenty, eggplant, imam puree, and harissa pepper.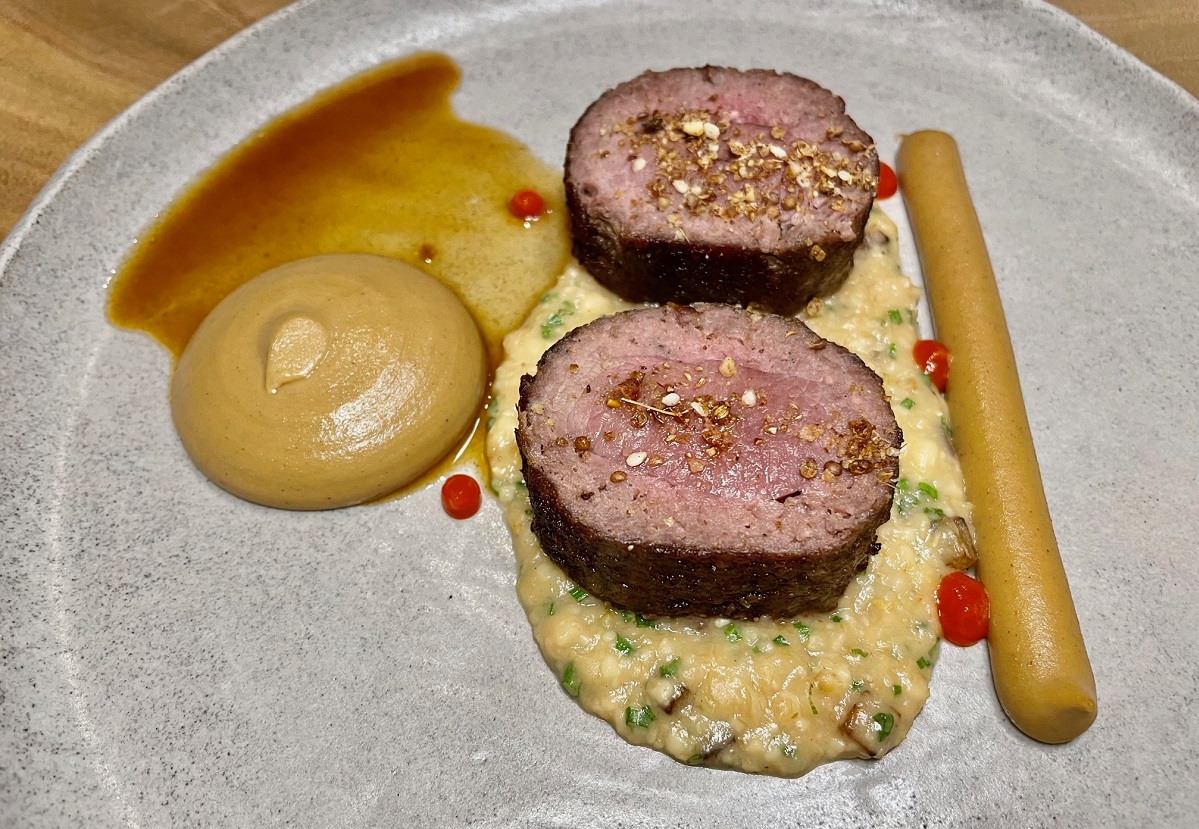 Accompanied by lemon zest, lemon confit, and a broth derived from the saddle, with the infusion of lemon zest and confit. The tender lamb, generously stuffed with aromatic lamb mince and a symphony of dukkah spices, imparts a savory and fragrant profile.
Frumenty lends a hearty and comforting texture, while the smoky depth of eggplant and the fiery notes of harissa pepper conjure a tantalizing contrast.
The dish is enlivened by the zesty lemon zest and the rich, tangy nuances of lemon confit.
The crowning glory is the saddle-derived broth, infused with lemon, expertly tying all elements together into a masterpiece of indulgence.
Desserts prove equally beguiling, brimming with flavors yet judiciously sparing in sugar content, a perfect conclusion to a remarkable dinner.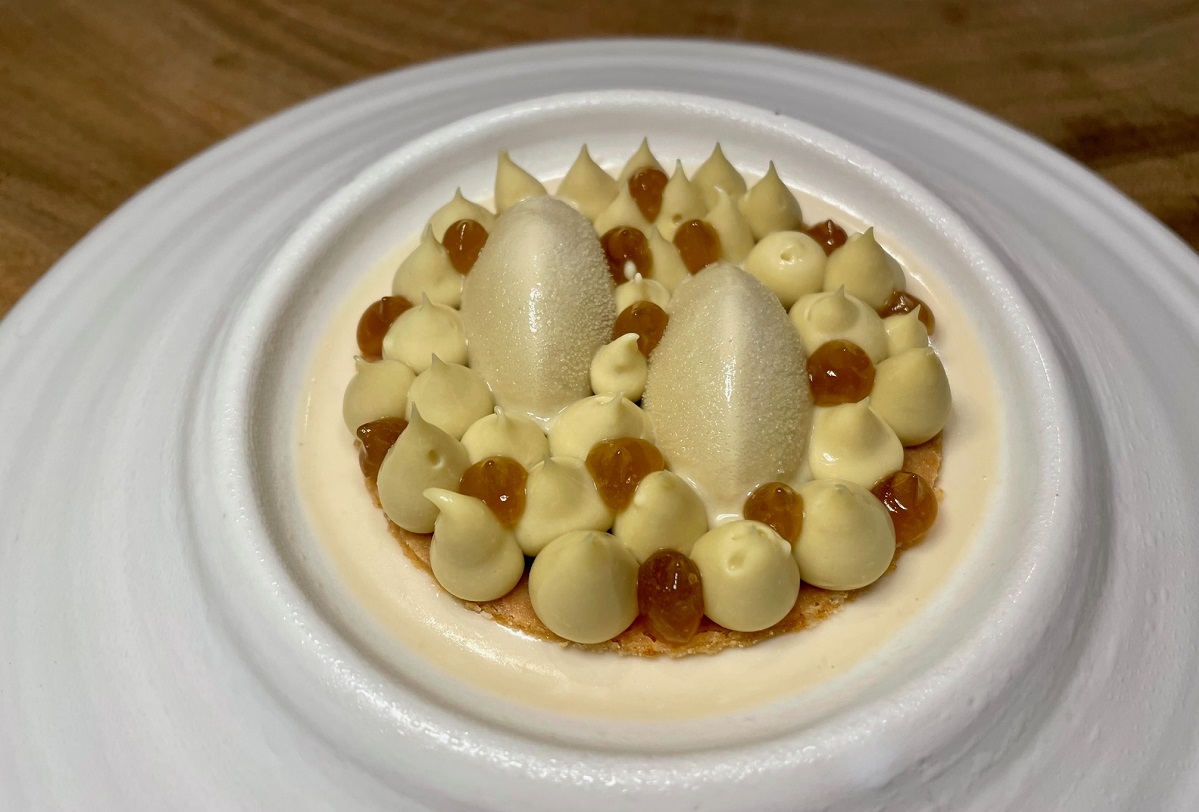 Throubi Restaurant boasts an impeccably curated wine list, featuring crisp white wines, light and fruity reds, and refreshing rosés that harmonize seamlessly with the seafood offerings.
Artisanal cocktails, craft beers, and non-alcoholic options, such as house-made mocktails and specialty teas, are also on offer.
The erudite staff provides exceptional service, adeptly guiding diners through the menu and they ardently strive to ensure an unforgettable dining experience for every patron!