Oliva Restaurant Corfu: A spectacular modern twist with respect for Greek flavors!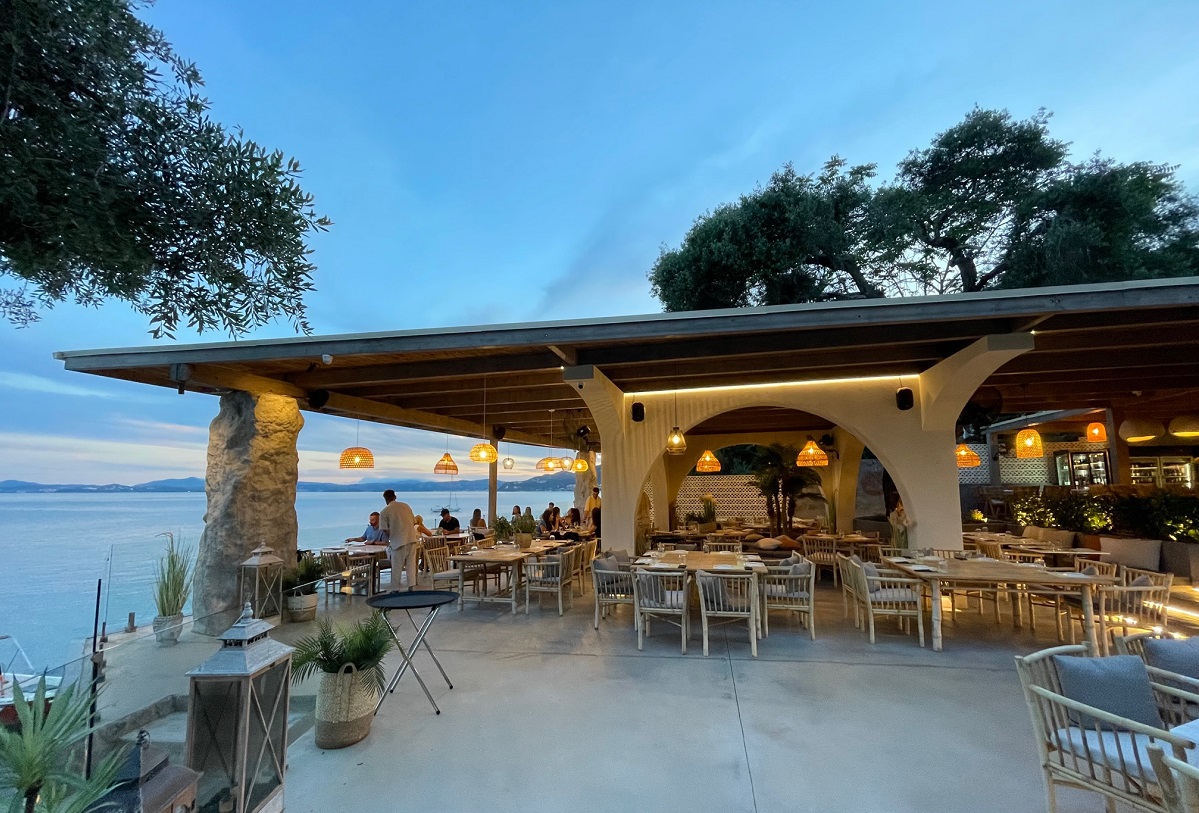 Oliva Restaurant in Corfu
Oliva is a new, modern Greek restaurant (Nisaki, Corfu, tel:. 2663 091588), located in front of the mesmerizing sea on the beautiful island of Corfu.
The restaurant offers a contemporary ambiance, seamlessly blending elegance and relaxation, with panoramic views of the azure waters, guests can indulge in a culinary journey of Greek cuisine with a modern twist.
From freshly caught seafood delicacies, to vibrant Mediterranean flavors, each dish is meticulously prepared using local ingredients (farm-to-table concept).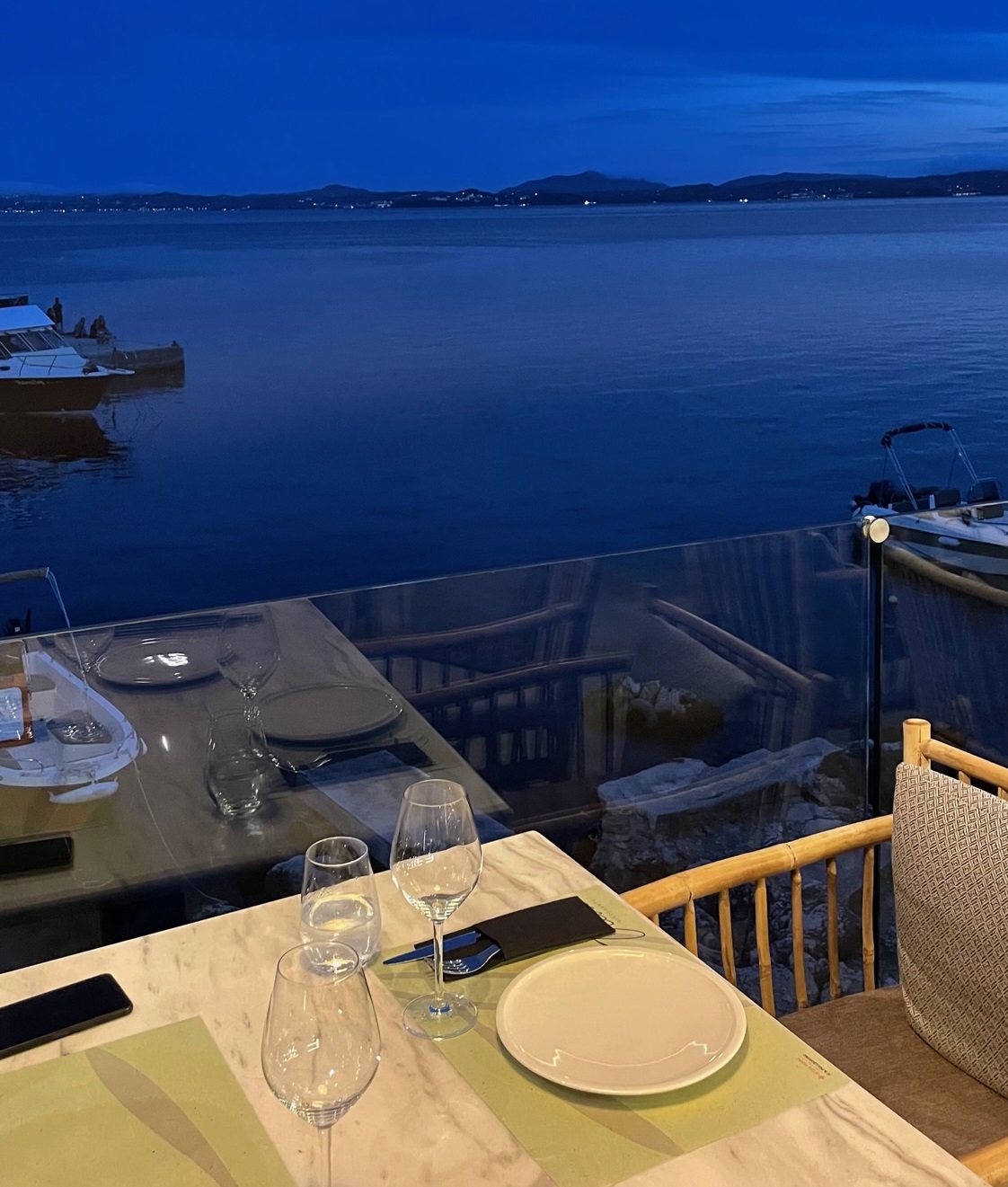 The combination of breathtaking views, sophisticated decor and exceptional gastronomy, creates an unforgettable dining experience, capturing the essence of Corfu's natural beauty and rich culinary heritage.
Menu created by talented chefs Gikas Xenakis (consultant chef) and Loucas Tsavos (chef de cuisine).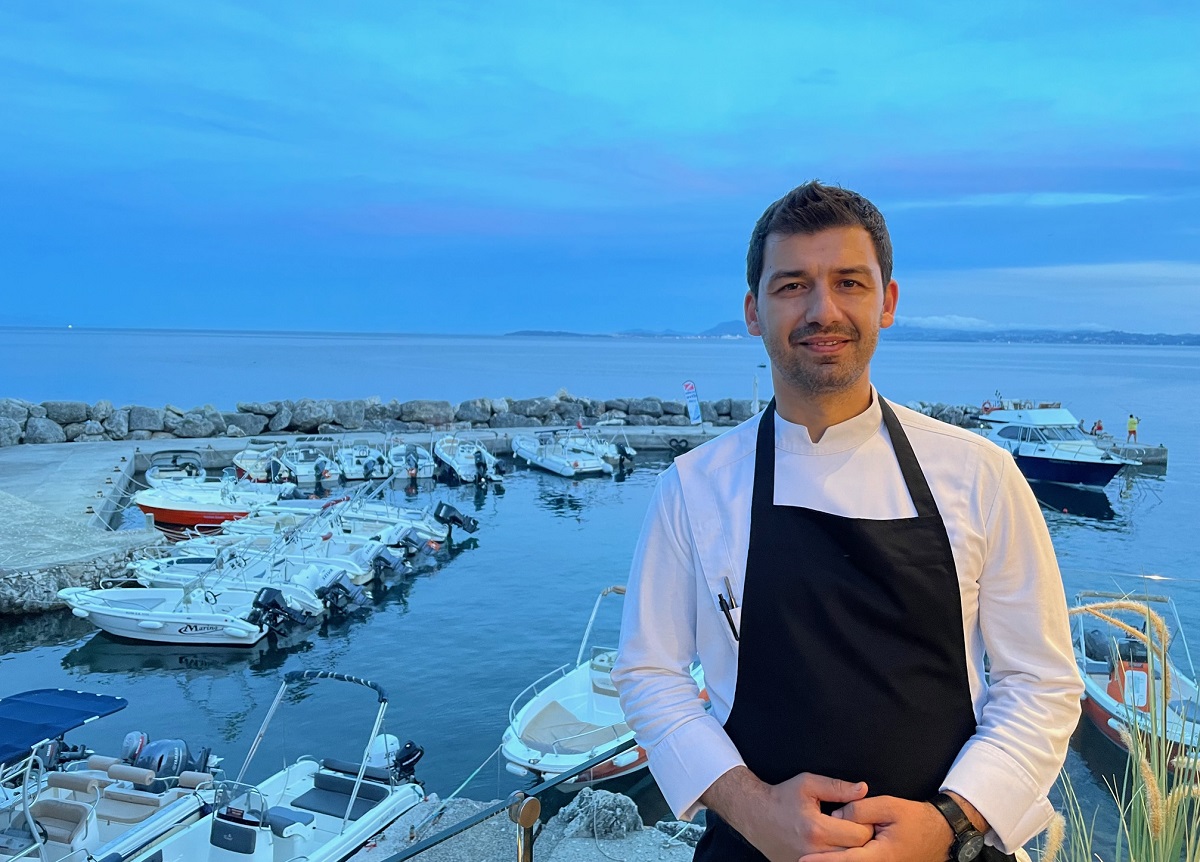 Chefs warmly welcome me with 3 exceptional breakfast-bites (amuse bouche).
The first crafted by Kagiana. Scramble eggs cooked with tomato, oregano, paprika oil and carob. Ripe tomatoes lend a vibrant sweetness, while oregano adds a delightful herbaceous note. A drizzle of paprika oil imparts smoky undertones, and a touch of carob brings a unique, mildly sweet essence to this flavorful dish.
Second one was a baby-sandwich made with charred sweet potato, turnip "bacon", mayo, and smoke olive oil. This bite was a harmonious blend of ingredients. Roasted charred and sweet potato provide earthy and sweet flavors, while turnip "bacon" mimics the smoky goodness of bacon. Creamy mayo adds richness, and a drizzle of smoky olive oil enhances the overall taste, making it a satisfying and flavorful choice.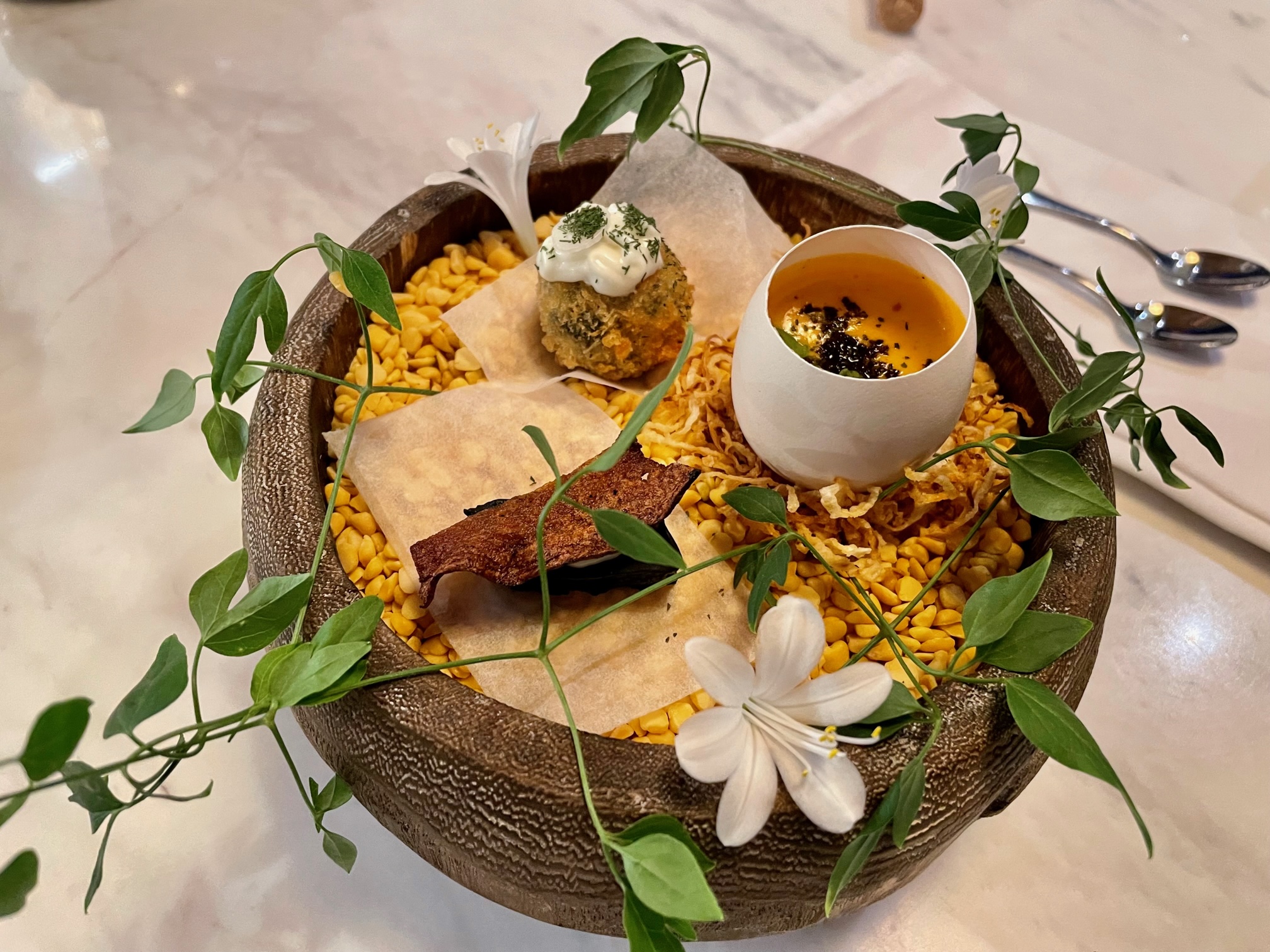 Arancini spanakorizo was the 3rd amazing amuse bouche. A delightful Greek twist on the classic Italian arancini. These golden-fried rice balls are filled with a flavorful mixture of spinach, fresh herbs and rice, creating a perfect balance of textures and a deliciously savory bite.
Greek spreads are essential at a good restaurant table and so, the chef served me three different, creating an amazing fest!
First Taramas (fish roe salad) with beetroot chutney. This classic but elevated in this case spread offers a delightful combination of flavors. The creamy, salty taramasalata pairs beautifully with the tangy, slightly sweet beetroot chutney. This contrast of sweet, savory, and sour creates a harmonious balance that tantalizes the taste buds and pleases the palate.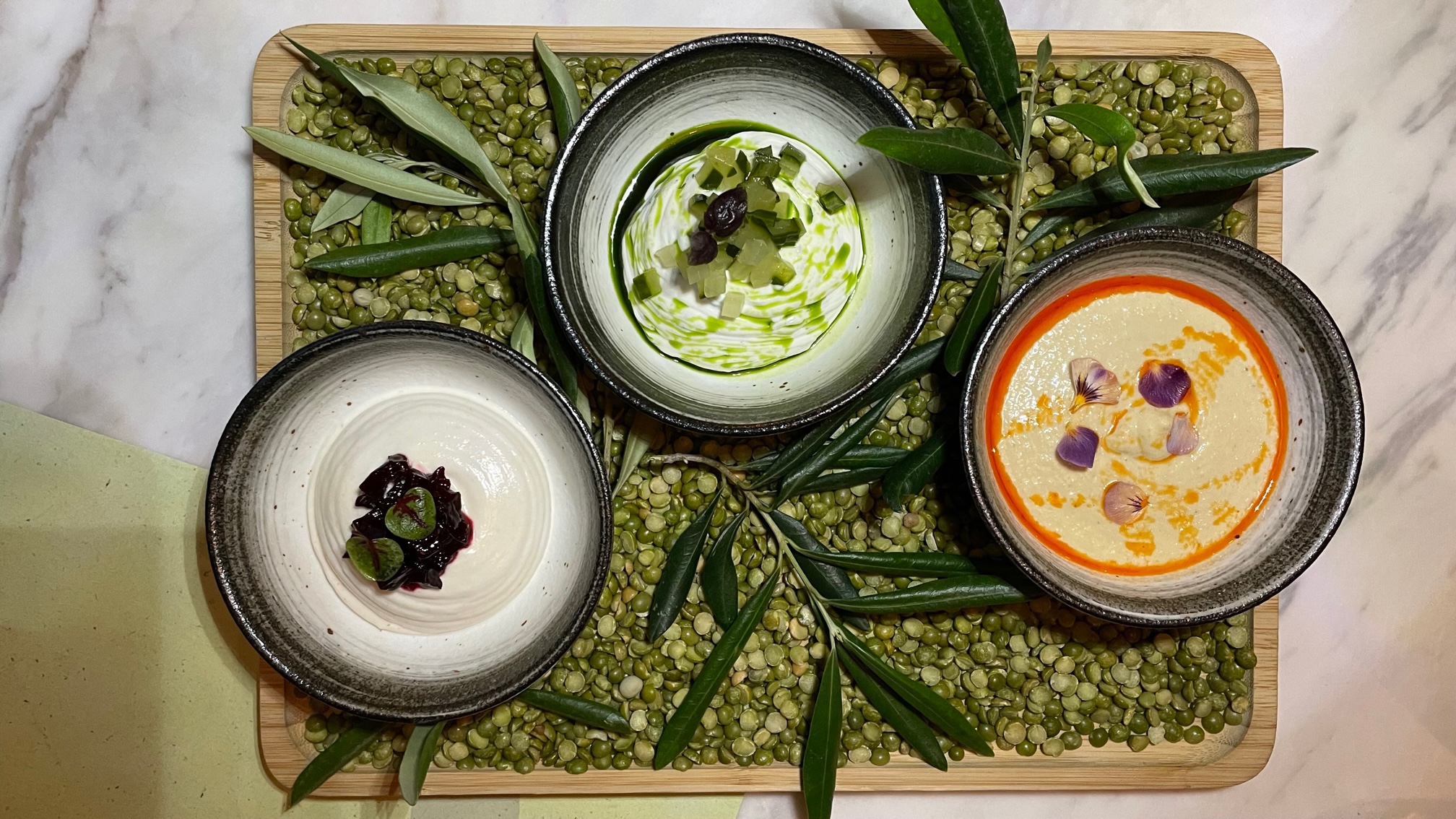 Tzatziki, for the next. Thes refreshing Greek dip, is made with creamy Greek yogurt and flavored with pickled cucumber for a tangy twist. The addition of aromatic parsley oil and dill creates a delightful herbal flavor. This combination results in a cool, vibrant, and flavorful spread, perfect for accompanying various dishes or different kind of breads.
Hummus was the last one. Chickpeas cream was levated with a drizzle of smoky paprika oil and a hint of aromatic cumin. The rich, earthy flavor of the paprika oil and the warm, subtle spice of the cumin create a delightful depth of taste, enhancing the traditional hummus experience.
They are accompanied by three sensational breads: Α Thessaloniki round bun, a sourdough bread and a carob bread with walnuts.
My dinner started with Ionian Ceviche. Αmberjack (catch of the day) and sweet potato chips on the dish. Succulent pieces of perfectly cut Amberjack fish, are marinated with apricot, orange, lime, onion, and fresh coriander, resulting in a symphony of flavors.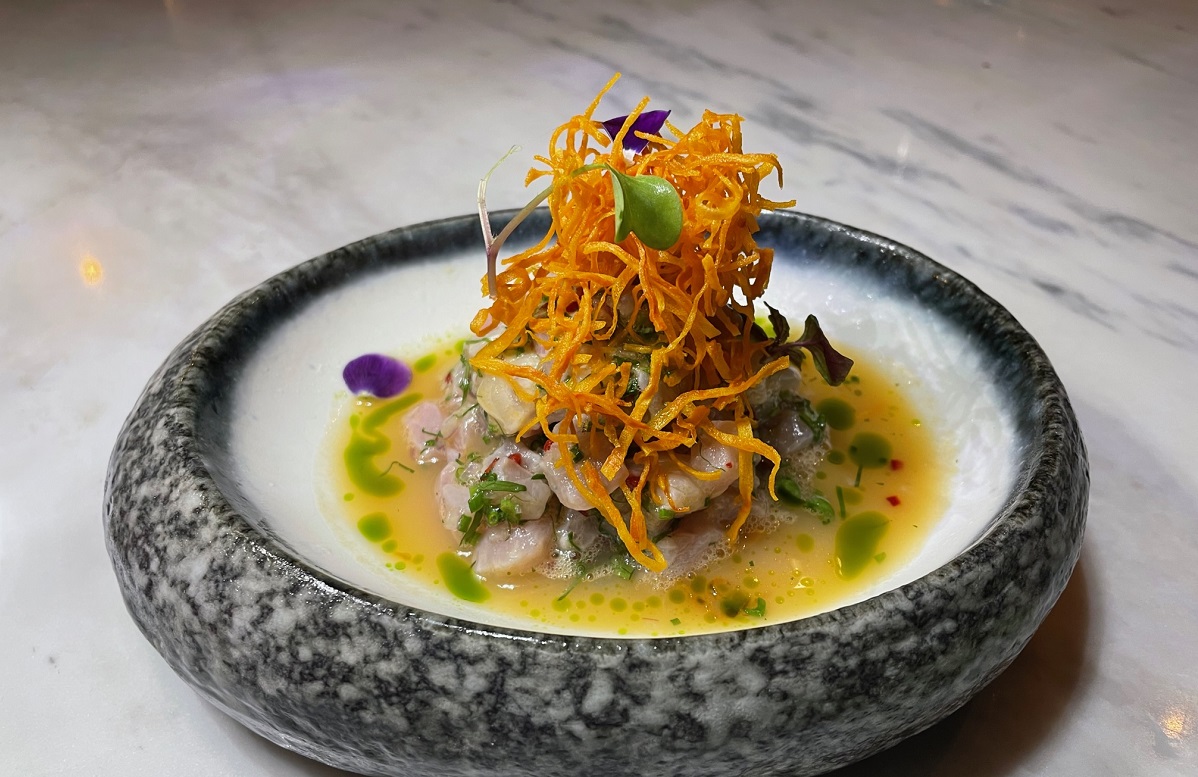 A touch of chili adds a gentle heat while the accompanying sweet potato chips provide a crispy texture. The combination of sweet, savory, and slightly spicy elements creates a harmonious and unforgettable taste experience.
Next dish, beef tartar. With smokey extra virgin olive oil, potato crisp, Greek gruyere cheese, hazel and pickled shimeji mushroom.
Oh my God, what amazing surprise!!! The smokey beef tartar was a culinary masterpiece. Meticulously prepared, it mimics the flavors of a perfectly barbeque steak. Enhanced with a drizzle of smokey extra virgin olive oil, it harmonizes with the accompanying potato crisp for a delightful crunch.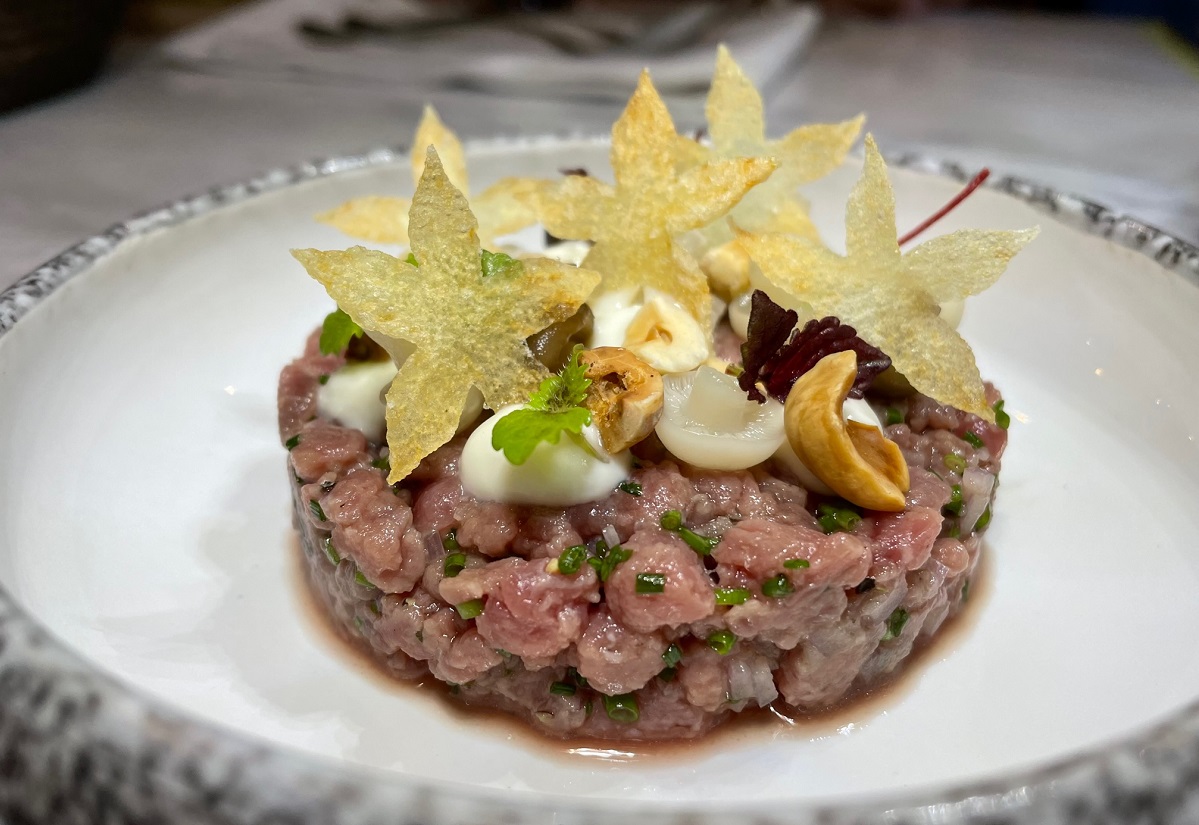 The addition of Greek gruyere cheese, hazelnuts, and pickled shimeji mushrooms adds complexity and depth, creating an extremely clever dish! Congratulations to the chefs and the team!
My dinner continued with Scallops and Nοubοulo, a traditional Corfu cold cut of excellent quality, that is made with pork fillet marinated in local wine with spices and herbs. Also crumple with nouboulo and bread on the top of Scallops, and a beurre blanc sauce with fennel.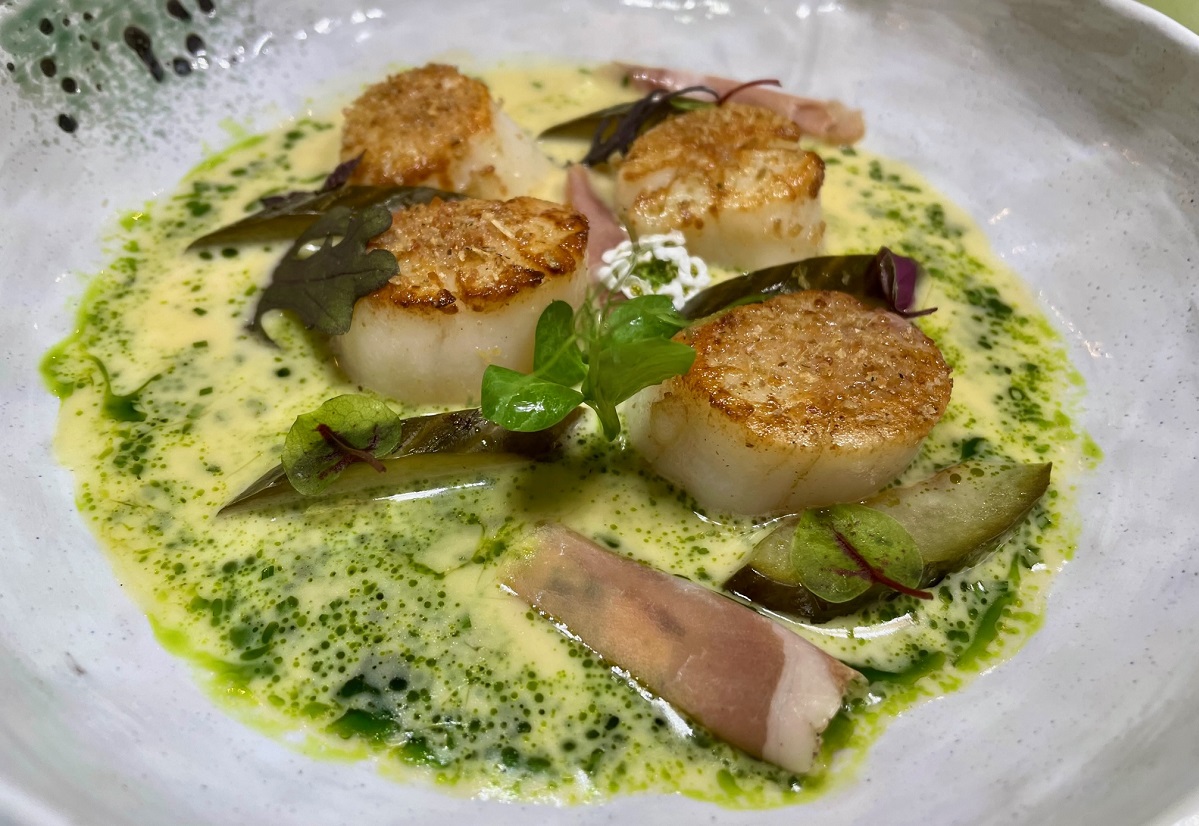 Atop the plump scallops, a delectable crumble of Nouboulo and bread adds a satisfying crunch. Complementing this masterpiece is a velvety beurre blanc sauce infused with aromatic fennel, providing a delicate balance of richness and freshness. Each bite presents a symphony of textures and flavors, showcasing the perfect harmony of seafood, meat, and herbaceous notes. A true delight for all the senses!
For the next dish, a classic, but elevated recipe, from Corfu Island: Cod in bianco (as a classic is a stew made with cod, potato, lemon and olive oil). In this case, cod has been cooked with open fire, and the jus made with the bones of the fish, vegetables and some shellfish.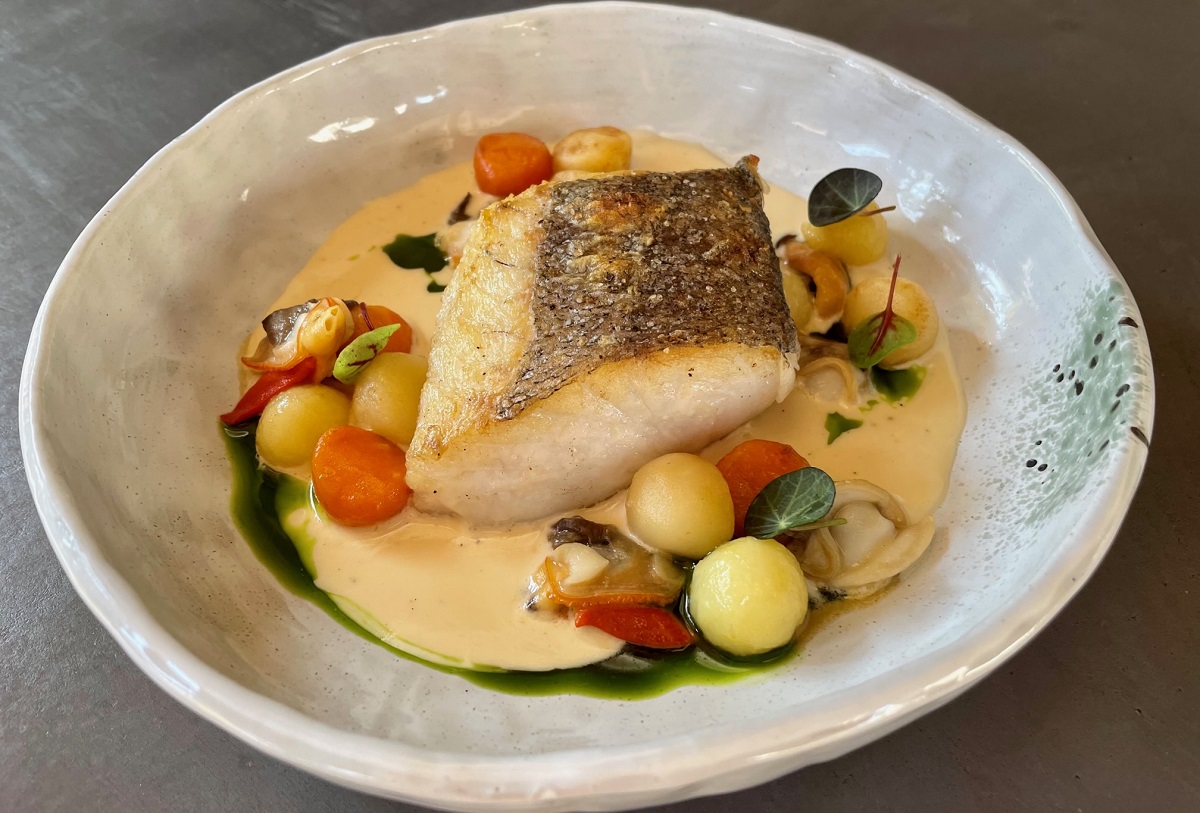 The cod is masterfully cooked over an open fire, infusing it with smoky flavors. The jus, crafted from the fish bones, vegetables, lemon, and potato, creates a rich and flavorful base. To enhance the sea-inspired essence, delectable shellfish are added, imparting additional depth and complexity. This harmonious combination of ingredients results in a truly remarkable fine dining dish, showcasing the delicate flavors of the sea and the artistry of the culinary craft.
Last but not least, one more traditional dish from Corfu: Pastitsada. Made by rooster leg and sauce with spetseriko.
An elevated traditional dish, featuring tender rooster leg and paccheri pasta. The sauce is a harmony of eleven aromatic spices of spetseriko (wild cumin, cinnamon, nutmeg, and more).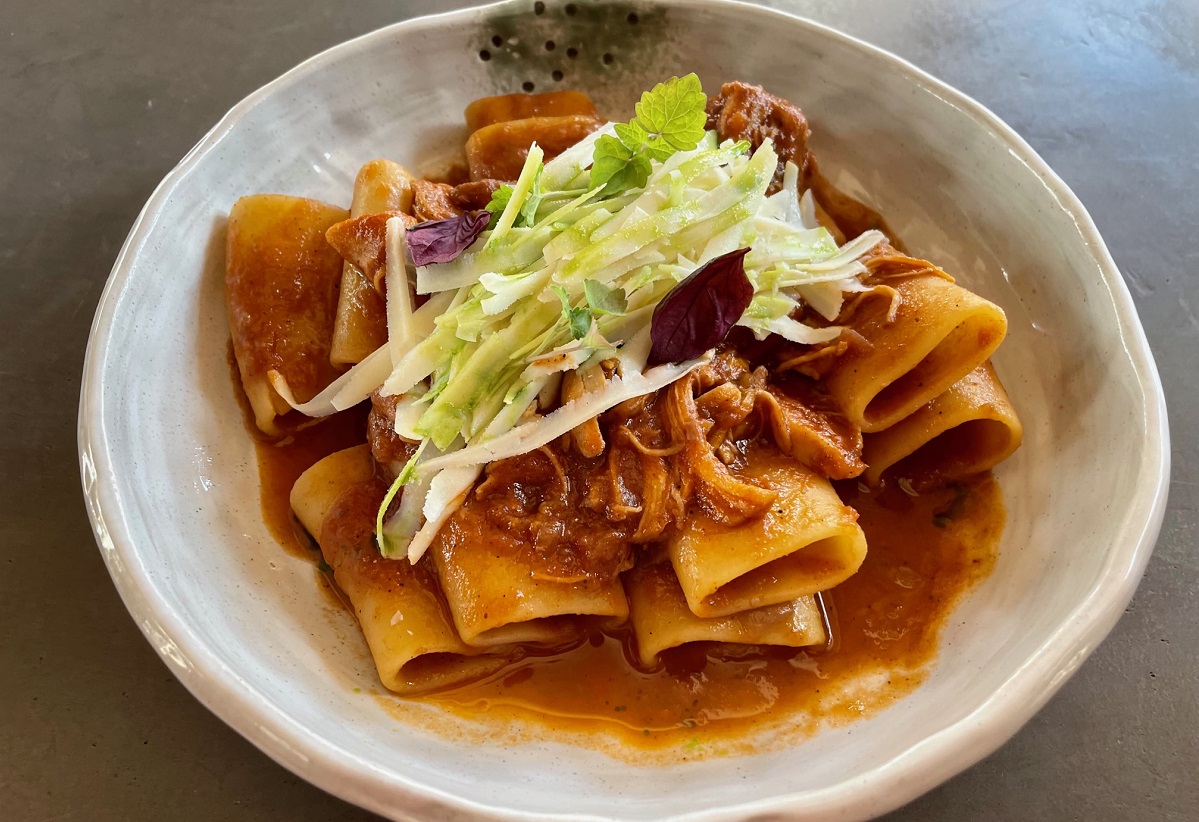 Each bite unveils a harmonious blend of rich, savory, and subtly spicy notes, enveloping the succulent meat and perfectly cooked pasta. Pastitsada is a true delight for the palate, offering a unique and flavorful experience that captures the essence of Greek cuisine.
My stunning diner close with dessert. Soft almond Nougat (mandolato), almond tuile, meringue and biscuit, kumquat gel, ice cream with almond praline.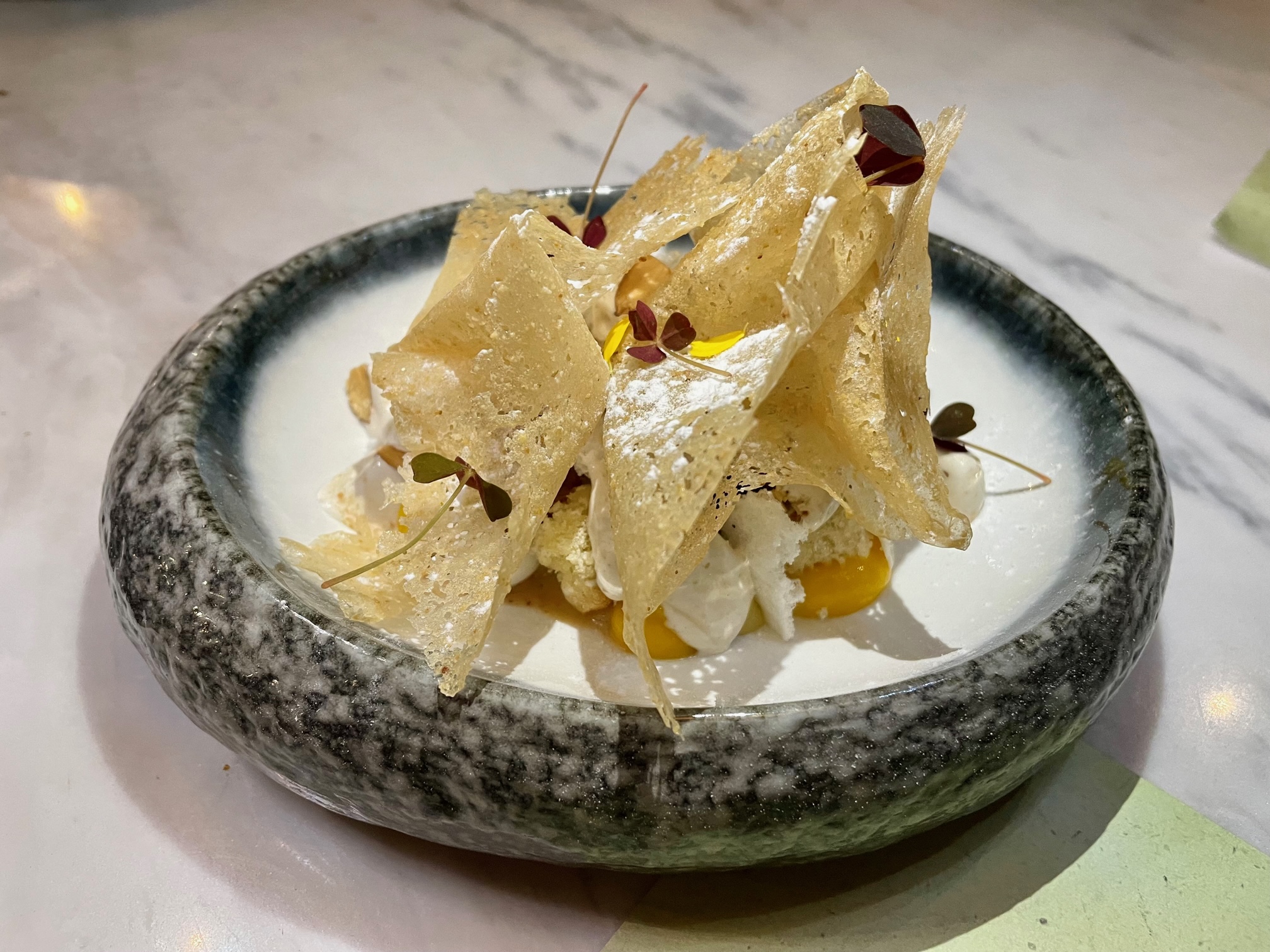 An outstanding soft and crunchy almond nougat, known in Corfu as classic mandolato, takes center stage, accompanied by a delicate almond tuile, feather-light meringue, and a delectable biscuit base. The dessert is elevated with a tangy kumquat gel, which adds a vibrant citrus note. A scoop of luscious almond praline ice cream crowns the creation, providing a creamy and nutty element. This harmonious combination of textures and flavors creates a unique dessert experience.
The service team of Oliva Restaurant was great, showing attentiveness and understanding of client's needs and expectations.