Daios Cove: My amazing culinary journey with 3-Michelin star Chef Christian Le Squer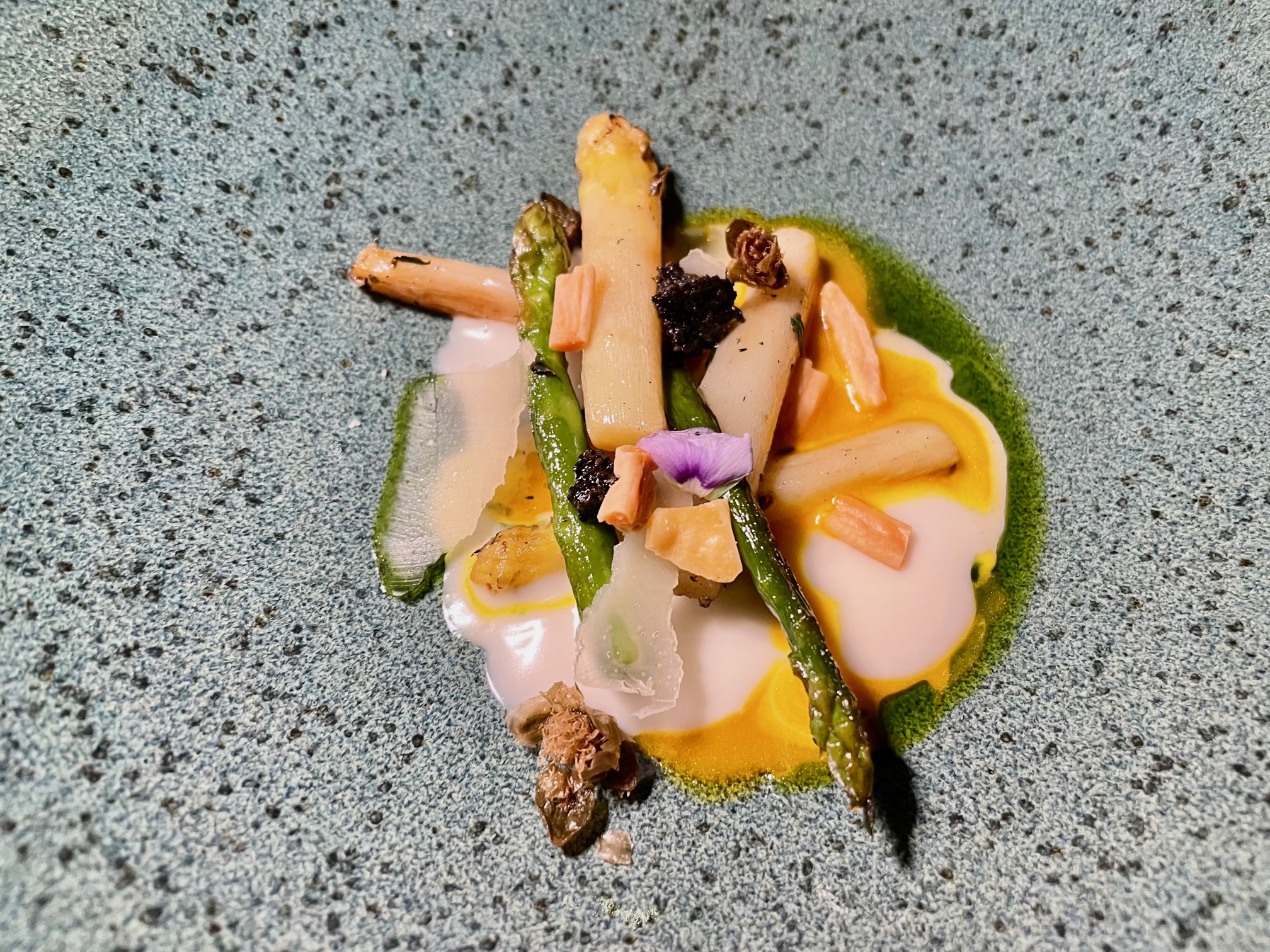 White Asparagus scented with Amaretto by the Chef Christian Le Squer
Gastronomical adventures with Michelin-starred and award-winning chefs from around the globe are on for another year at the Daios Cove Luxury Resort & Villas in Crete.
Τasteid.gr was there for the second special gastronomic event of "Culinary Journeys Series", to taste the 5-course menu, created by the Chef  Christian Le Squer (3 Michelin stars, restaurant Le Cinq, Paris).
And the experience was out of this world!!!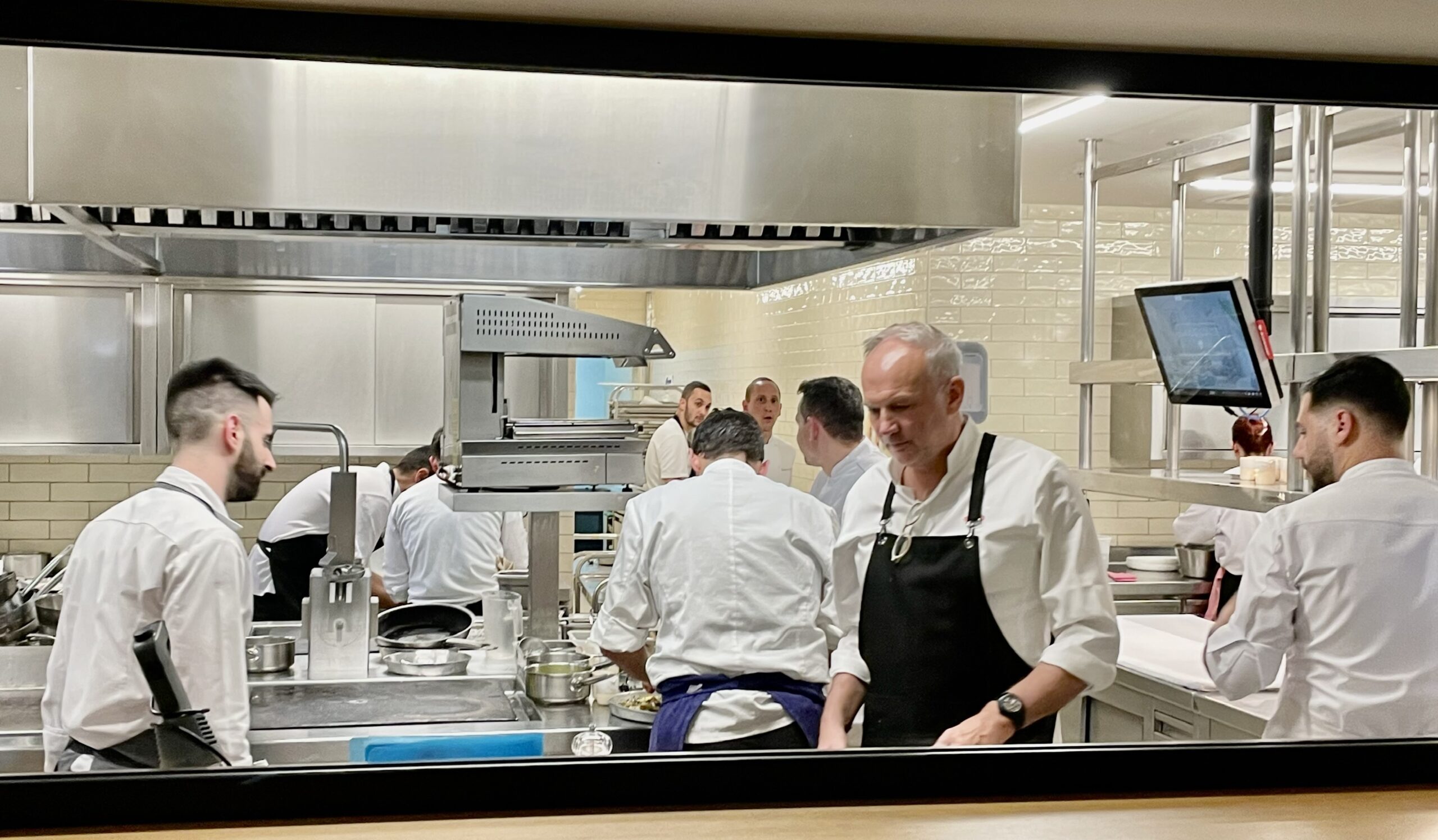 For the first course, I tried the Blanc Manger of Lobster. Milk cream, black garlic, lobster gel, Ossetra caviar and hazelnut oil.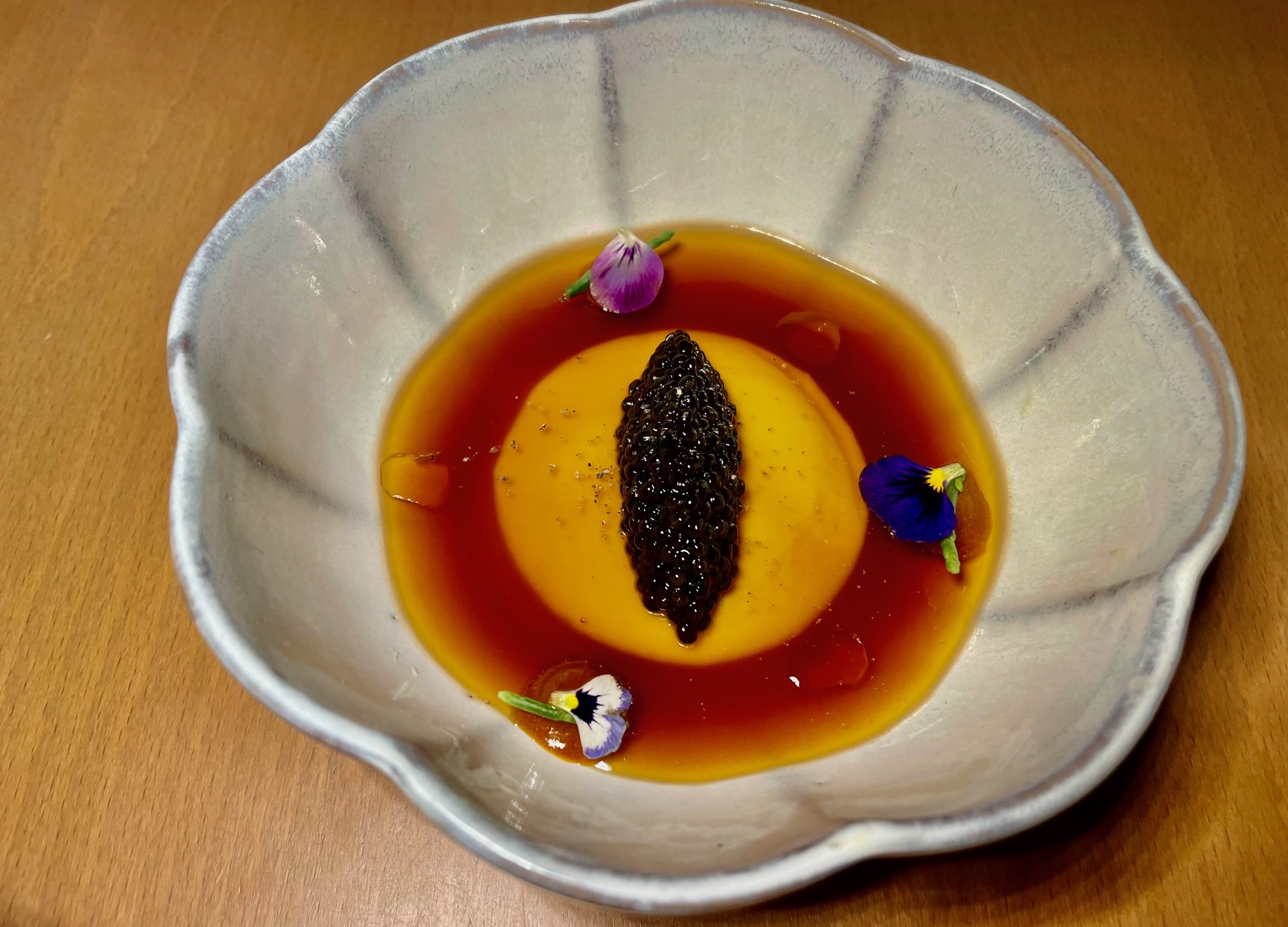 A tantalizing creation, the velvety cream harmonizing the dish with a subtle hint of black garlic, complemented by a luxurious lobster gel, and the opulence of Ossetra caviar, all elevated by a final flourish of luscious hazelnut oil.
All elements together creating a compination of flavors, culminating in a truly unforgettable gastronomic experience.
Second course, White Asparagus scented with Amaretto. Grilled white asparagus, parmesan and amaretto cream, parmesan cookie crumble and also flakes of the italian cheese.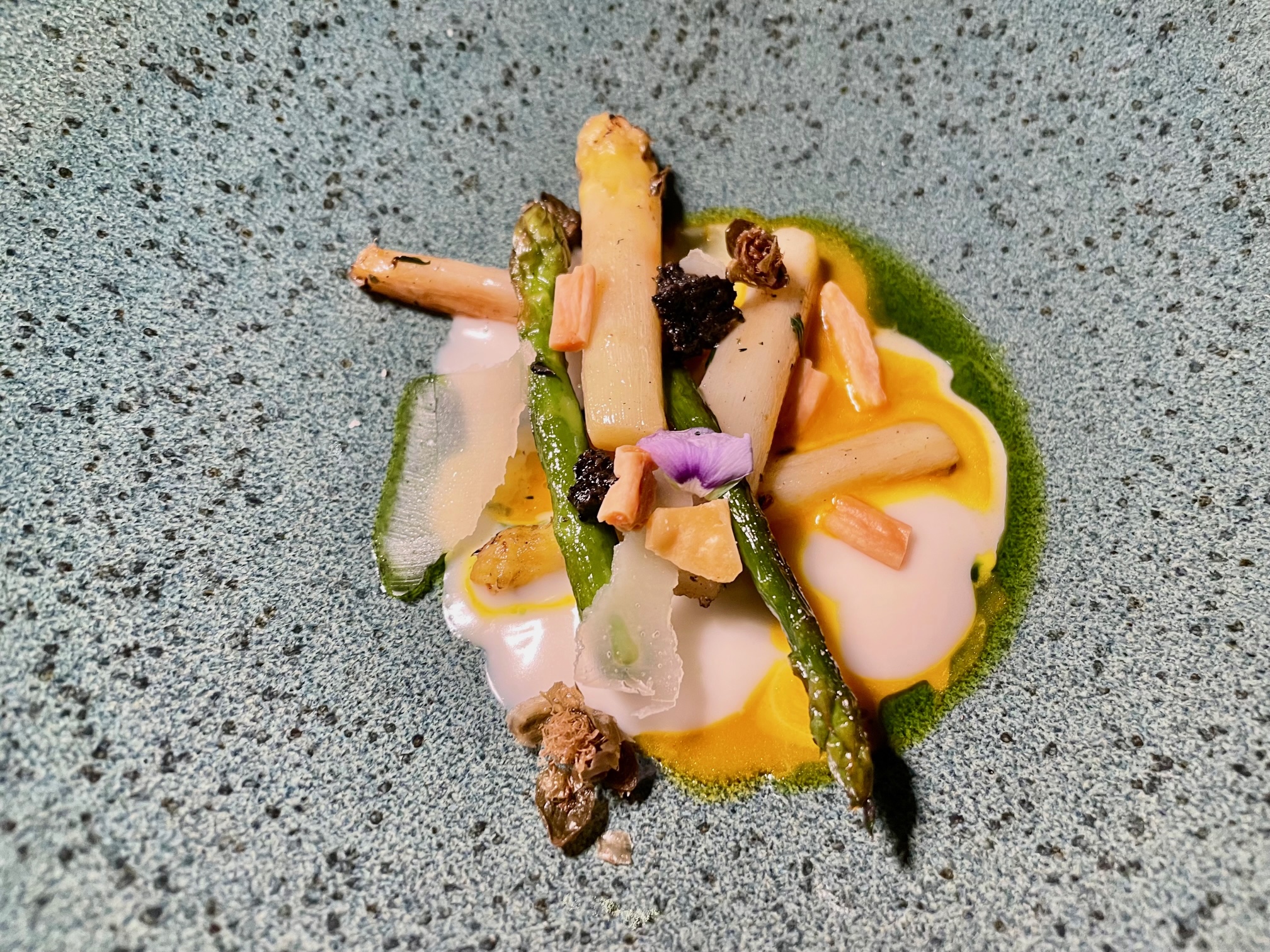 The dish is an exquisite combination of flavors. Grilled white asparagus provides a smoky essence, while the parmesan and amaretto cream adds a rich and creamy sweetness.
The parmesan cookie crumble offers a delightful crunch and savory undertones. Finally, the flakes of parmesan enhance this amazing creation with their nutty and salty notes.
Together, these elements create a harmonious blend of textures and tastes that leave the palate delighted and satisfied.
For third course, Tomato Tartare and Sorrel Sorbet. Fine chopped dehydrated tomato, with tomato confit, sorrel sorbet, potato chips and cuttlefish ink tuile.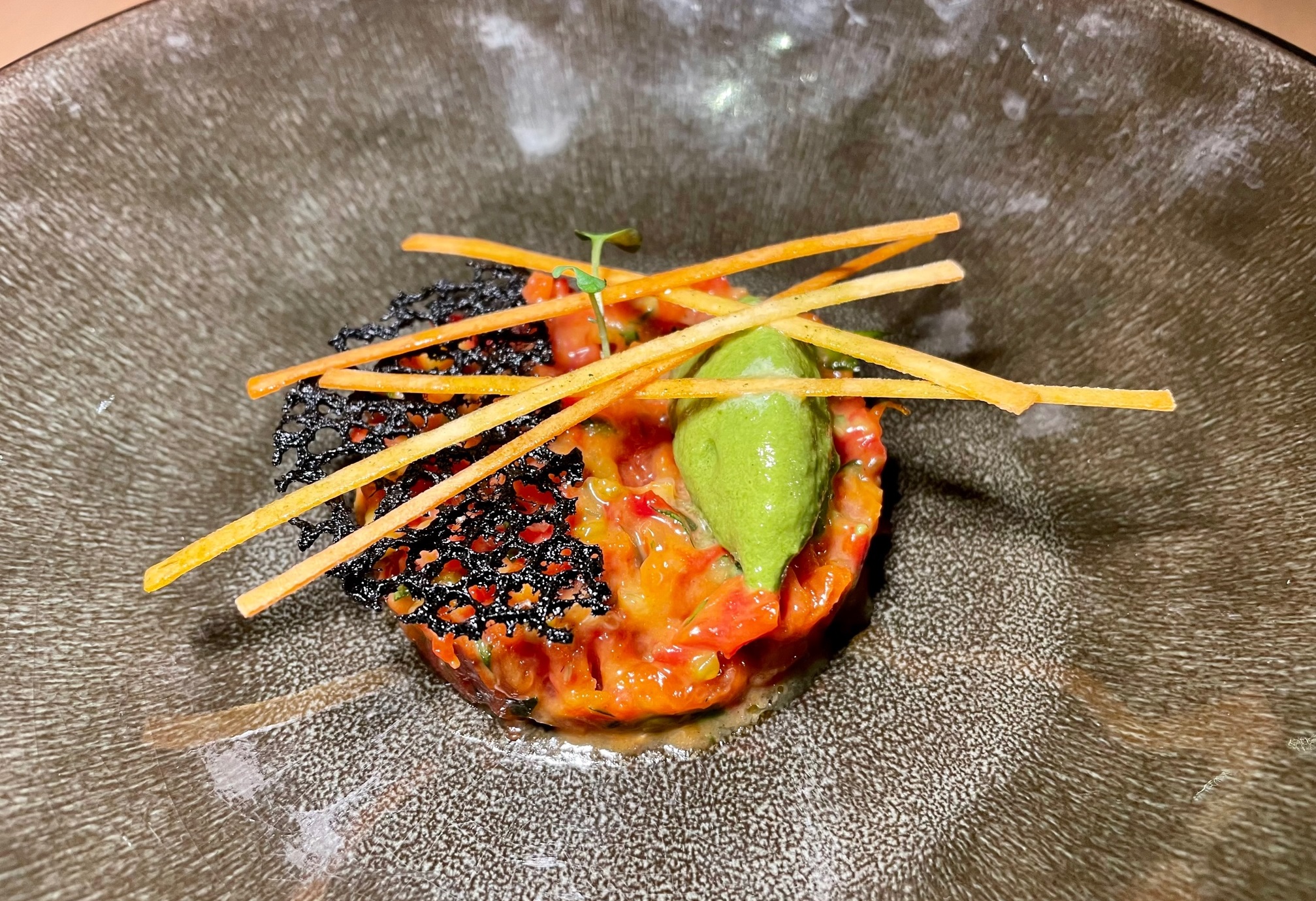 This plate was a symphony of vibrant flavors. The finely chopped, dehydrated tomato adds a concentrated taste of fresh tomato, complemented by the luscious confit that brings a hint of sweetness.
The refreshing sorrel sorbet provides a delightful contrast, while the crispy potato chips add a satisfying crunch.
The cuttlefish ink tuile lends a subtle briny tone, completing this culinary masterpiece with its unique essence.
The fourth dish was Line-fished Seabass. Grilled sea bass in butter milk sauce, ossetra caviar and cauliflower.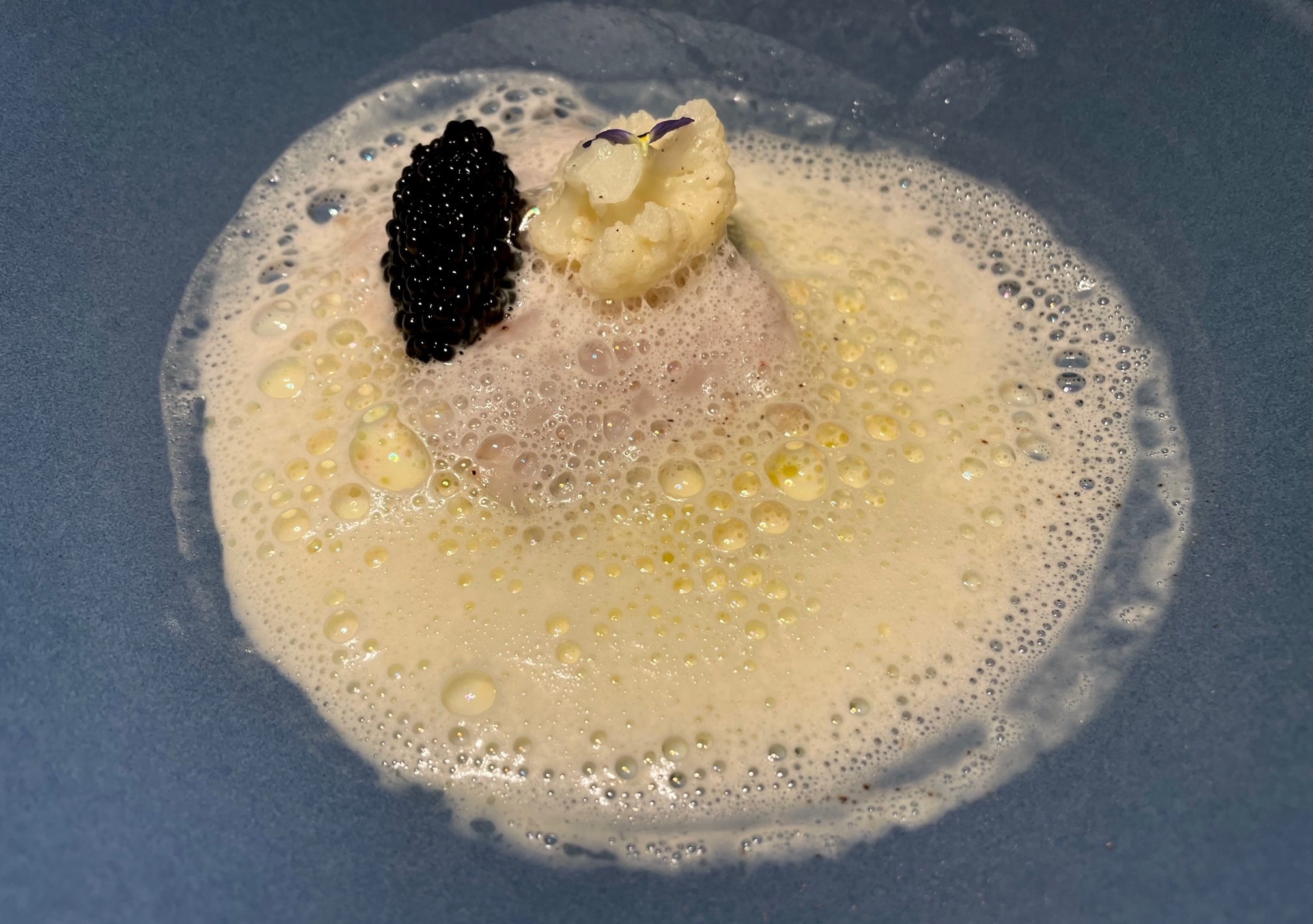 I really had an amazing flavor journey with this exceptional dish. The grilled sea bass was perfectly cooked, offering a delicate and flaky texture.
The butter milk sauce envelopes the fish with a creamy and velvety richness, while the indulgent Ossetra caviar adds bursts of briny goodness.
Accompanying it all is the cauliflower, tender and slightly nutty, providing a subtle earthiness.
Together, these elements create an elegance of seafood and the beauty of complementary flavors.
And the final amazing course, was Lamb with Jalapeno sauce. It was accompanied with transparent ravioli made of green apple and tomato water and mini-black pudding.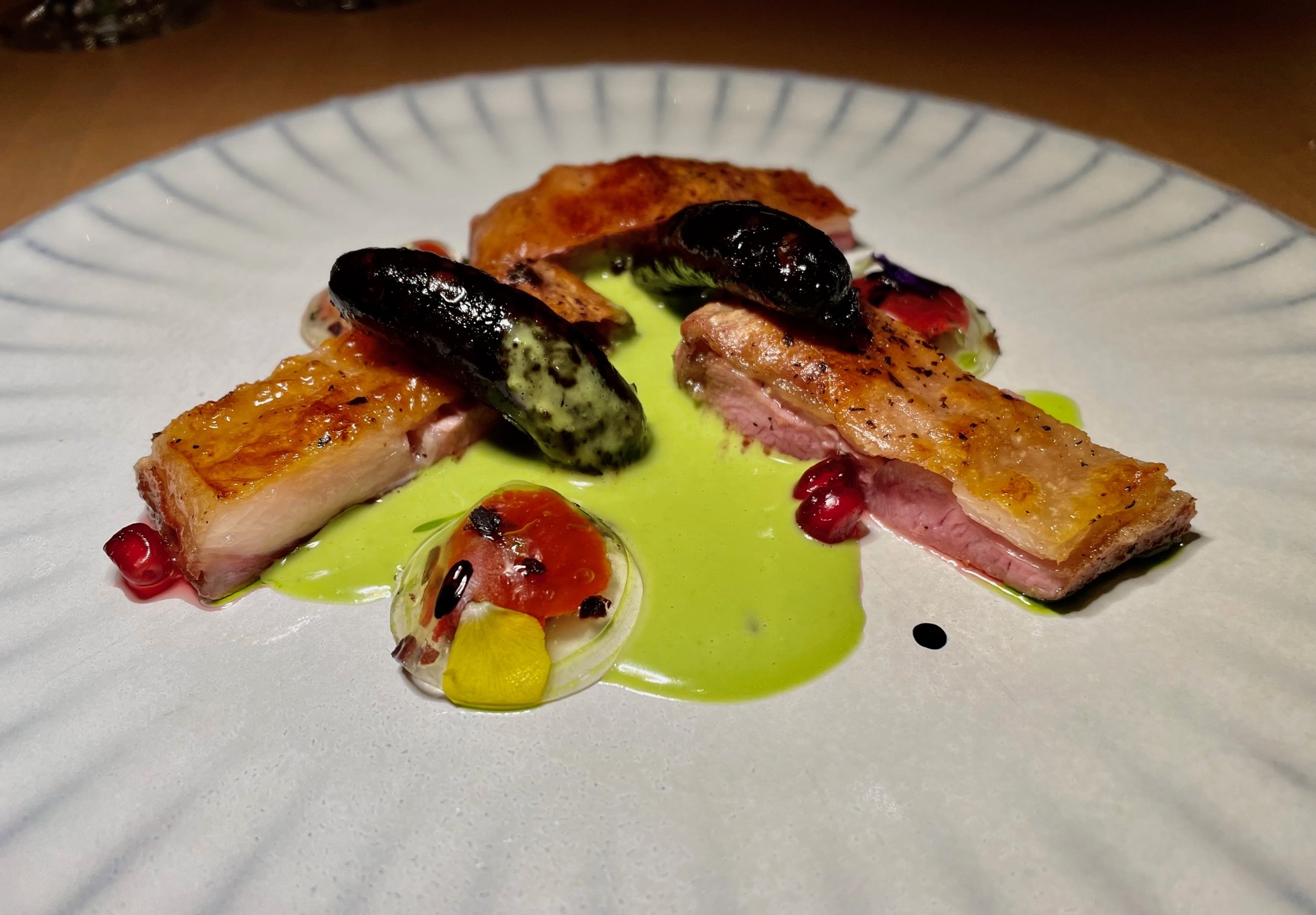 The succulent lamb with the crispy skin was expertly cooked, tender, and juicy. Its natural richness is complemented by the bold and spicy Jalapeno sauce, which adds a fiery note.
The transparent ravioli, made with a blend of green apple and tomato water, provides a refreshing and delicate balance.
As I delved into this culinary creation, I discovered a surprise: A mini-black pudding, adding depth and a hint of earthiness.
This dish showcases a fusion of flavors that harmoniously dance on the palate, creating an unforgettable gastronomic delight.
The time for dessert has come, and strawberries with Chantilly cream, White chocolate, liquorice-infused sorbet and strawberry chips is served.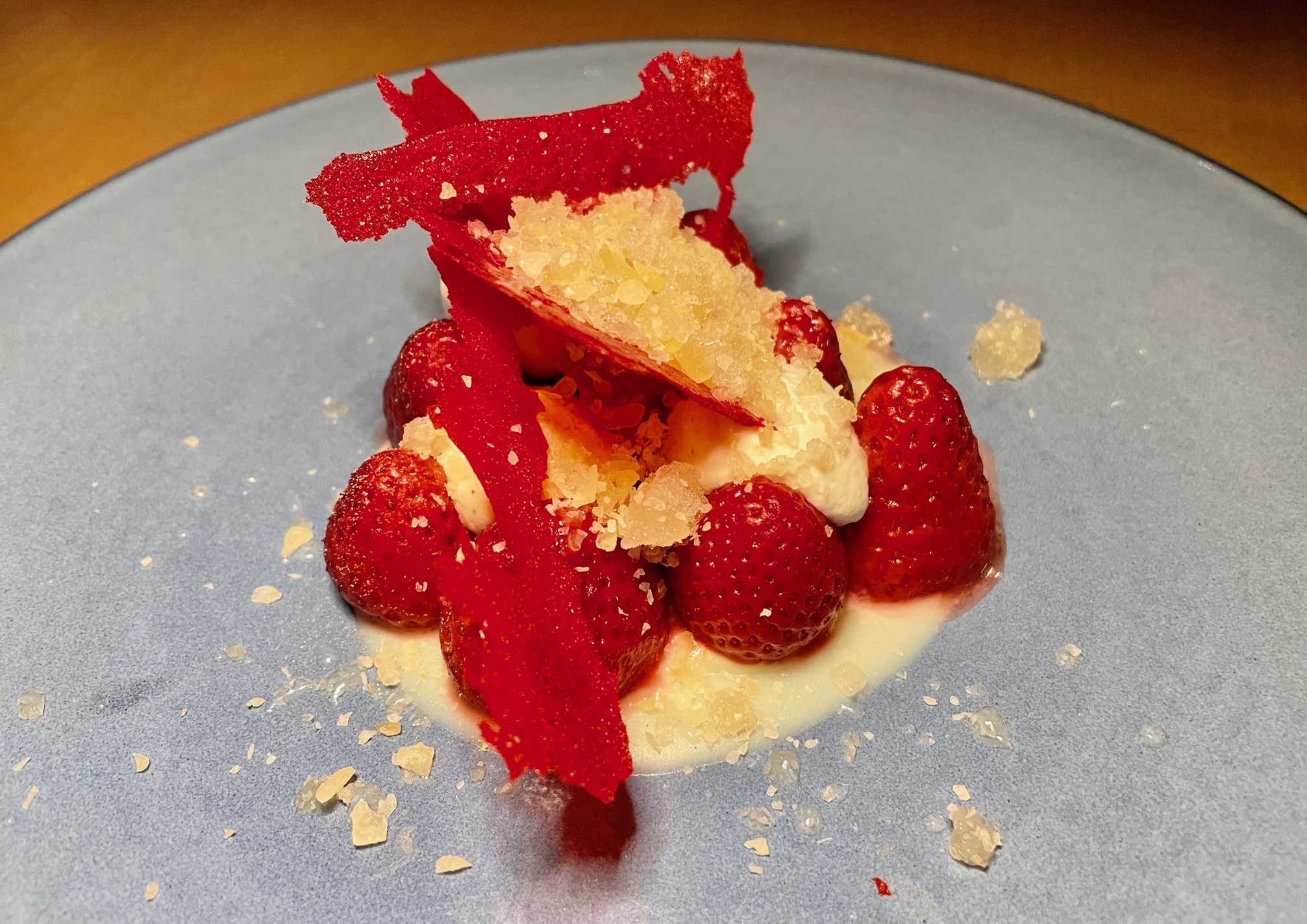 The luscious fresh strawberries are accompanied by velvety chantilly cream, adding a creamy and smooth texture.
The white chocolate provides a delicate sweetness, while the licorice-infused sorbet adds a unique and subtle hint of liquorice.
To top it off, the strawberry chips provide a crispy element.
Together, these components create a delightful balance of sweetness, creaminess, and contrasting textures, that leave me craving for more.